Total lockdown imposed in Manipur's Kangpokpi district
Kangpokpi has been witnessing an alarming surge of Covid infection and fatality since the past few days but only one ventilator is reportedly functional.
---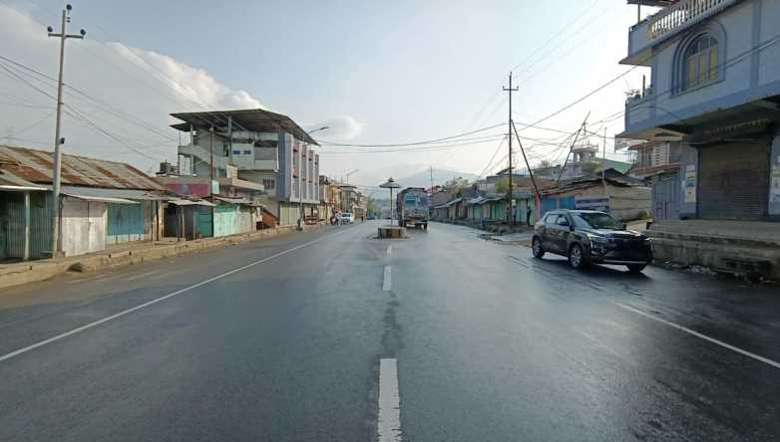 Kangpokpi, Manipur (Photo: IFP)
---
The busy Kangpokpi town wore a deserted look as total lockdown began on Friday, following the collective decision of Kangpokpi town local bodies under public pressure to check the spread of the COVID-19 pandemic in the district.
All business establishments remained closed except pharmacies, clinics and hospitals. All types of local vehicular movement were also restricted except for a few government officials and doctors' vehicles and other emergency services. Only a few people were seen coming out for emergency needs.
As per the official sources, with one more positive case today, the active cases stood at 61 with four cured and discharged in the last 24 hours while the fatality case stood at 19, excluding one death which is yet to be reflected in the official portal.
Kangpokpi has been witnessing an alarming surge of Covid infection and fatality since the past few days but it was learnt that only one ventilator of two available ventilators is functional while the other one is still in non-functional mode owing to incomplete parts.
It was reported that the two ventilators were procured last year during the first wave while one of them could not be installed owing to incomplete parts and it unfortunately remained as it is till date. With only one functional ventilator, Kangpokpi is going to combat the alarming surge of the dreaded COVID-19 infection.
During the first review meeting, the local MLA Nemcha Kipgen, who is also the chairperson of 50-Kangpokpi AC Assembly Segment Covid Awareness cum Enforcement Committee, had instructed the medical department to indent at least 50 oxygen cylinders and 100 purse oximeters.
However, the medical department reportedly sent a petition to the state Director Health Services to indent 25 B-type cylinders and 8 D-type cylinders.
The review meeting also decided to activate the Covid Care Centre at Leikop with at least 20 bedded 'ICU like accommodation'. Subsequently, the Covid Care Centre was activated recently but the 'ICU like accommodation' is yet to be installed.
The cfor accommodation of asymptomatic COVID-19 patients is also yet to be activated.
The isolation facilities available as of now in the district include two beds at District Hospital Kangpokpi and 100 beds at Covid Care Centre with around only 18 oxygen cylinders.
It was reported that a 76-year-old woman from Kangpokpi Ward No II infected with COVID-19 is in critical condition at Kangpokpi Christian Hospital and she is to be evacuated at District Hospital Kangpokpi.
First Published:
May 7, 2021, 10:02 p.m.