For a leap of imagination
IFP Editorial: Before talking of any action the state needs to have in place a supply chain mechanism to ensure uninterrupted supply to the hospitals and to dispel any sense of panic.
---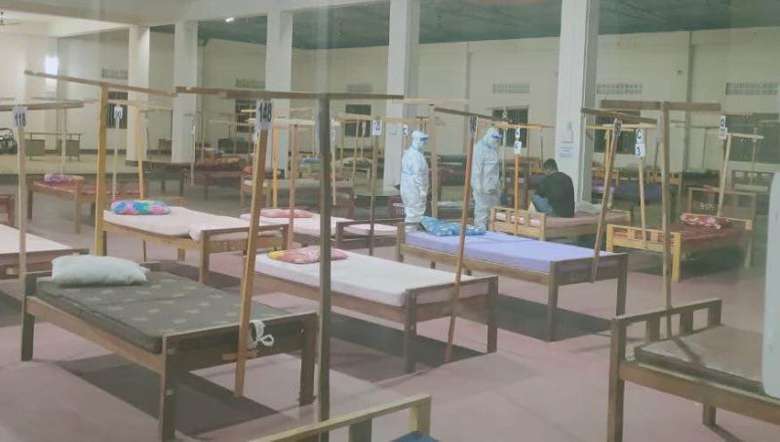 A temporary Covid Care Centre at Bal Bhavan Indoor Stadium, Khuman Lampak in Imphal (PHOTO: Facebook)
---
Dealing with an overwhelming crisis is no easy task for anyone in charge. The key lies in imagination and developing a pre-emptive strategy along with preparedness. One needs a leap of imagination to be able to chart different trajectories and project all possible future scenarios in the wake of a third wave if it at all comes as predicted by experts. In the meantime, one should not lose sight of the mounting problems of the second wave, as it continues to deliver its deathly strike day after day.
What we are doing now is chasing the daily surge of Covid-19 infections and deaths and sometimes it feels like a losing battle as we continue to be overwhelmed by the increasing spike in infections coupled with lack of adequate hospital beds and critical care facilities, besides inadequate in-house production of oxygen in the state to meet the increasing demand as the numbers add up daily in three figures. As we suggested in this space for gearing up the critical care sector of the hospitals, both public and private, the chief minister responded by holding a review meeting with concerned ministers, MLAs and officials to effectively tackle Covid-19 second wave by ensuring proper care of Covid patients and adequate oxygen supply, effective manpower management and increase in ICU beds, isolation beds and ventilators.
Meanwhile, the health director continues to assert that there are no shortages of medical oxygen as the central government has already given approval to set up six Pressure Swing Adsorption (PSA) plants at six different districts of Manipur, including JNIMS, which has already started functioning.
He also warned of necessary action against those who are involved in panic buying of medical use oxygen cylinders. On the other hand, the chief minister is calling in favours from neighbouring states to extend an uninterrupted supply in the hospitals and Covid Care centres as there is lack of adequate number of oxygen plants in the state, as per his posts in the social media. The health director seems oblivious to the fact that there is something called a supply-chain mechanism where the oxygen being produced and in stock are regulated for smooth and uninterrupted supply to the hospitals. The other day, RIMS authority was made to take back a notification on oxygen scarcity.
Maybe, the state wanted to avoid general panic among the public. But, the state has to understand that it is the hospital authorities who are facing public ire more particularly from the relatives on the ground who are confronted most of the time with uncertainty of fresh supply of oxygen. When faced with such an uncertainty, the relatives run around from pillar to post to buy oxygen wherever available. The problem, my dear, lies with the state response and not with the public. So, before talking of any action the state needs to have in place a supply chain mechanism to ensure uninterrupted supply to the hospitals and to dispel any sense of panic.
Coming back to the question of projecting future scenarios and charting strategies to pre-empt any eventuality, there is a need to establish a dedicated cell working 24x7 solely for the said purpose.
Yes, we have the State Control Room and constituency level Control Rooms. But, they are basically for monitoring and management. And, the state level Covid-19 Consultative Committee is basically for preparing the state response as it evolves and certainly not for projecting future scenarios and charting adequate strategies accordingly. One needs to remember the classic case of the caterpillar evolving into a butterfly. Nowhere in the imagination of the caterpillar, it would have known that it would someday evolve into a butterfly, whatever shade it takes and yet it is destined as per evolution. That is where the 'leap of imagination' comes into play. The Covid-19 situation is not as dire as in the rest of the country where people are dying as they stand, sit and sleep for want of beds and oxygen. We have time to ponder and prepare for the third wave. So, let us get to work. 
First Published:
May 7, 2021, 1:58 a.m.