West Bengal Post-poll Violence: Protests held in Manipur amid restrictions
The agitation was a part of the nationwide two-day long protest to be carried out under the directive of the BJP.
---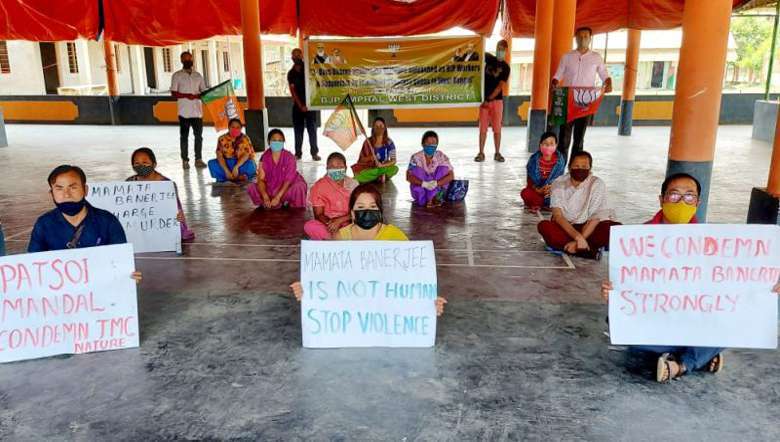 (PHOTO: IFP)
---
As a part of nationwide protest conducted by Bharatiya Janata Party against post-election violence that took place in West Bengal, the Manipur BJP also conducted sit-in-protests, starting from booth level to state level amid the intensified state government's order to avoid mass gathering.
The recent election of West Bengal has been the darkest one in the history of elections held in India, said Lok Sabha MP RK Ranjan in a press conference held at the state BJP office located at Nityaipat Chuthek, Imphal on Wednesday.
Ranjan said West Bengal is known in the Indian history for its advance thinking but Mamata Banerjee led Trinamool Congress has spoiled the reputation of West Bengal. Mamata won the recent election conducted at West Bengal by using unfair means, he added.
He alleged that during the said election, BJP workers were brutally assaulted by the workers of Trinamool. Even after the election more than 400 houses of BJP workers were burnt down and many of them were killed, he added.
Ranjan said Mamata does not have the moral right to swear-in as chief minister of West Bengal as she won the recent election by violating the meaning of democracy.
Decrying the post election violence in West Bengal, the BJP is conducting the nationwide protest, he added.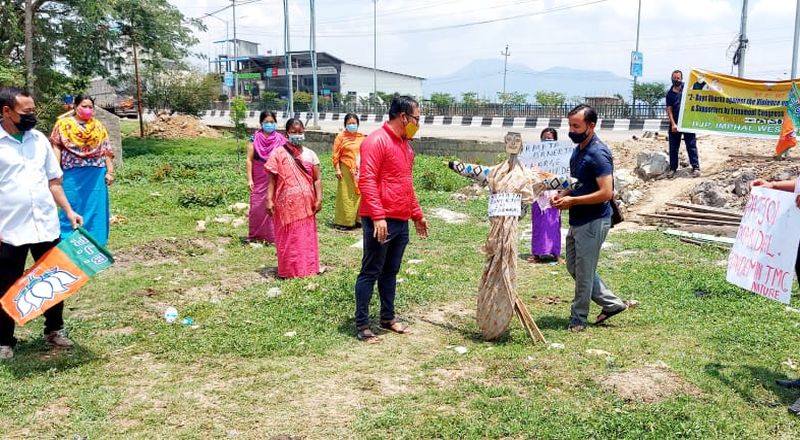 (PHOTO: IFP)
Under BJP Imphal West, the protest was conducted at Sekmai, Lamshang, Konthoujam, Patsoi, Langthabal, naoriya Pakhanglakpa, Wangoi, Mayang Imphal and Jiribam.
During the protest slogans such as 'TMC workers became killers in West Bengal since results came out', 'this is the death of democracy', 'Mamata Banerjee be charged for murder?', 'president rule only option to stop violence in West  Bengal' , 'where is democracy in West Bengal' , 'Bengal is now doomed for five more years of this violence and hooliganism' and 'we want justice in West Bengal' were raised by the BJP workers.
Meanwhile, the BJP Thoubal District staged a sit-in-protest at Thoubal Wangmataba Puja Mandir Hall.
The agitation was a part of the nationwide two-day long protest to be carried out under the directive of the BJP.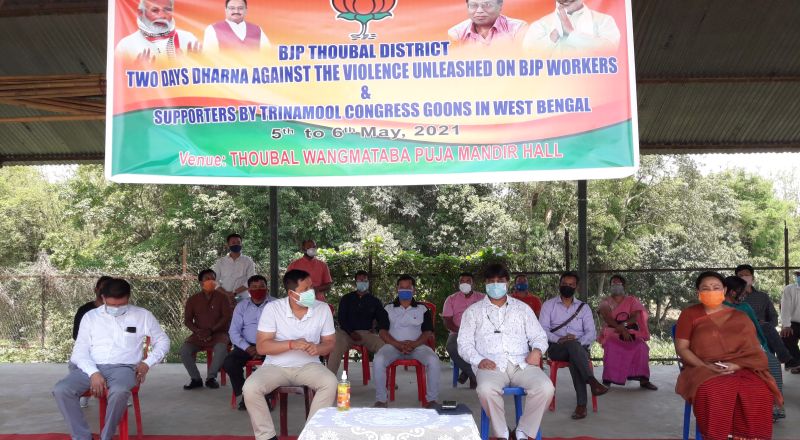 (PHOTO: IFP)

General secretary (Organisation) of BJP Manipur Pradesh and Nagaland, Abhay Kumar Giri who took part in the sit-in protest told media persons that such violent incidents that happened in a democratic country was unfortunate. The incidents clearly proved that the Trinamool Congress is a party that promotes goondaism and violence, he added.

Abhay further drew the attention of the authority concerned in taking up prompt action against the Trinamool Congress for being violent.

The sit-in-protest was also taken part by general secretary of BJP Manipur Pradesh, P Premananda Meitei, state secretary of BJP Manipur Pradesh, K Inaocha Devi, president of BJP Thoubal District, Yumnam Kumarjit and former BJP candidate of Thoubal AC, L Basanta among others.

In Tamenglong, BJP 53- Tamenglong Mandal organised a sit-in protest at the market shed of Utopia, in the district headquarters.

Speaking to media personnel, president of BJP 53- Tamenglong Mandal, Saul Kamei said that five BJP workers were killed by supporters and workers of Trinamool Congress.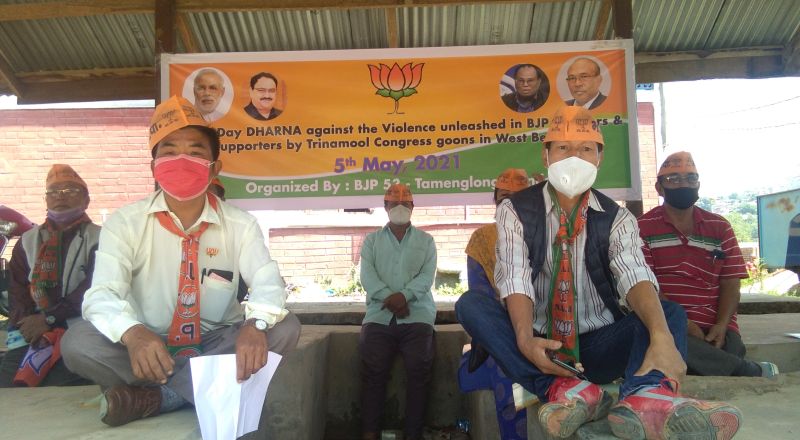 (PHOTO: IFP)
"In the post poll violence, party offices, houses and shops run by BJP supporters were vandalised and set on fire by Trinamool Congress goons. We strongly condemn these unethical and barbaric acts, and such undemocratic and unconstitutional acts must be totally condemned by one and all," he said. 
Samuel Kamei further demanded legal actions against the people involved, and also sought compensation for the victims and their families.
Members of BJP 53- Tamenglong Mandal along with office bearers and members of BJP-ST, Mahila and Yuva morchas took part in the protest held on Wednesday, 
BJP Wangkhem Mandal, BJP Kakching District also staged a sit-in protest condemning the West Bengal incident.
In Moreh, the sit-in-protest was staged at the BJP office of the district.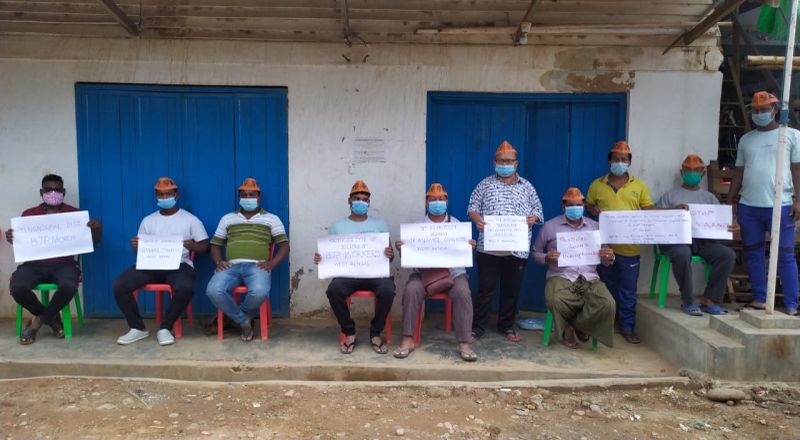 (PHOTO: IFP)
The protest was organised by vice-president of ST Morcha BJP Manipur Pradesh, J Khongsai under the supervision of president of BJP Manipur. Later, J Khongsai distributed face masks and hand sanitisers to the members of BJP Moreh and its executive committee members.
First Published:
May 5, 2021, 11:13 p.m.