Cremation of Covid patient body 'without informing family' sparks off tension in Imphal
The deceased was admitted to JNIMS New Covid Block on Monday after testing positive for the viral infection. He succumbed to COVID-19 on Wednesday early morning.
---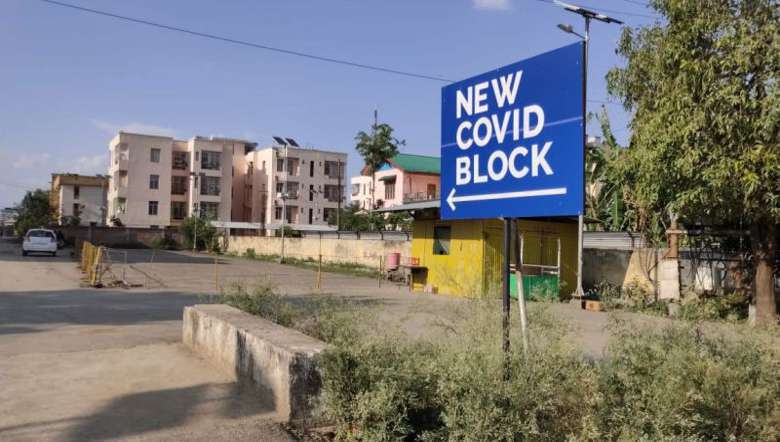 (PHOTO: IFP)
---
Tension erupted on Wednesday afternoon at the entrance of JNIMS New Covid Block after the body of a Covid patient was found cremated allegedly without informing the family members.

The deceased Covid patient has been identified as Warepam Jugindro, 78, son of late W Shamu of Top Khongnang Makhong PC Ground, Imphal East. He was admitted to JNIMS New Covid Block on Monday after testing positive on the day itself.
He succumbed to the infection on Wednesday early morning around 2:30.
Jugindro's son-in-law Usham Suresh contended that Jugindro's body was found missing when they came to receive it with permissions from DC concerned and local club to perform the last rites at his locality.
"When the staff denied any knowledge about the body, we had to look out for it. Later, it was found out that his body has been disposed of by IMC in the crematorium at Minuthong," the son-in-law said.
Maintaining that they were seeking permission from the DC and local club with the knowledge of the hospital authority, Suresh alleged that they were not able to perform the last rites because of the negligence of the staff looking after the body. 
He also urged the authority concerned and the government to take disciplinary action against those involved in the alleged negligence.
State health advisor to chief minister Sapam Ranjan came to JNIMS hospital to monitor the incident as per instructions from chief minister N Biren.
He told the media that the incident was a major lapse of JNIMS hospital. Necessary steps will be taken for the lapse immediately in order to avoid similar incidents in the near future.
Meanwhile, JNIMS director Th Bhimo said that the matter will be enquired upon at the earliest. The incident was a rare case for the hospital, he said adding, the medical staff including doctors and nurses have been attending to monitor the COVID infected persons round the clock.
There were three similar deaths at the COVID ward of the hospital, he said. As the medical staff were working under extreme stress and strain, it was likely that a wrong address was put for the body, he lamented.
As per protocol, the body of a COVID infected person has to be wrapped completely with a black plastic and the medical staff might have made a mistake as a result, he added.
The JNIMS director maintained that the attendant concerned is not reachable presently but the truth will come out with the enquiry.
 
First Published:
May 5, 2021, 4:48 p.m.