How self-taught artist from Manipur sold his art work at Taipei International Art Exhibition
Hailing from Sumtukphai village Churachandpur, Zaminlun Singson has sold his artwork/painting titled 'peaceful smile' for an amount of Rs 3.74 lakh at the Taipei International Exhibition in 2020.
---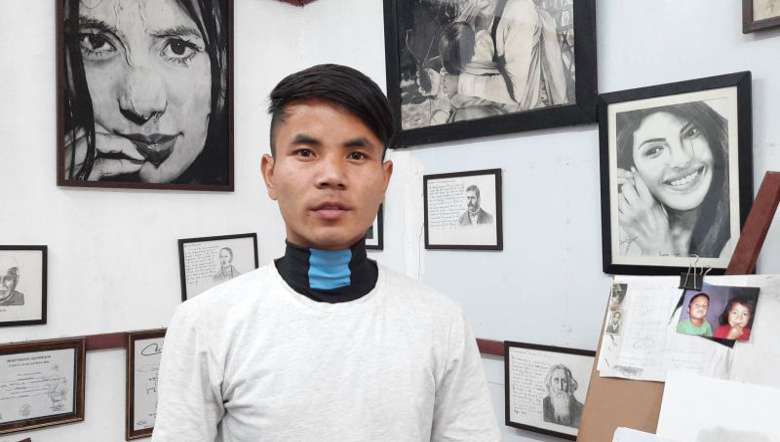 Zamminlun Singson
---
A 24-year-old self-taught hyperrealist artist Zamminlun Singson from Manipur has sold his artwork/painting titled 'peaceful smile' for an amount of Rs 3.74 lakh at the Taipei International Exhibition in 2020.
Zamminlun was also the winner of the 2020 International Artist Grand Prize Competition organised by Art Revolution Taipei for his artwork' fiorenza' with artists from 82 countries participating in it. Another two artwork 'peaceful smile' and 'eye' were also selected as a finalist of the competition.
Hailing from Sumtukphai village Churachandpur, Zaminlun developed interest in drawing/sketching at a very early age. However, he does not have the opportunity to join professional training and courses owing to his family financial condition.
Speaking to the Imphal Free Press, Zamminlun said, "In 2015, I completed class 12 examination and after my father passed away in 2017, I worked in a call centre to support my family".
Even though painting was just a hobby for Zamminlun, he began thinking about taking it more seriously after visiting art exhibitions and shows during his stay in Delhi. Witnessing paintings and artworks of different trained people, Zamminlun started gradually sharpening his skills and technique by watching tutorials on the internet. He considers the internet as his best teacher and Italian artist Diegokoi as his idol.
He began sketching the Rs 3.70 lakh worth art work  'the peaceful smile' in May 2019 and completed it in the month itself, taking an estimated time of about 80 hours to complete it.
Zaminlun said perfection of a work needs patience, concentration and a quiet place since distractions of any kinds can alter the quality of work. Besides that he also used a particular pencil brand called 'Carandache' from Switzerland with a price of Rs 21,000 for 18 pieces.  
Except for his work,' the peaceful smile', the artist did not sell any of his artworks because he thinks that the rate/ money which people offer is not acceptable with the amount of time and hard work he has put into.
Given his opinion on the status of artists in the state, the self taught artist said there were times when he thought of giving up the art because the hard work of artists and their artworks still lacks recognition and appreciation in the state.
Besides, there are only a few known successful artists in the state. As such, the public view towards the status of artist is still lower in comparison with other professions, the artist said.
For upcoming artists in the state, there is a high chance that they can easily give up because there is little support and acknowledgement from the people, he added. The artist informed that throughout his journey, he has experienced bitter experiences that can discourage him in his profession.
However, he did not let any negative feedback or criticisms let him down. Instead, he tried to work harder to perfect his artwork.
Zamminlun considers himself lucky that a few people liked and recognized his artwork when he was in Delhi. The recognition and encouragement from people has motivated him to continue it till today.
With the money he has earned from his works, Zamminlun since 2020, has opened a studio at Churachandpur wherein he also gave training to students. Zamminlun said, " I have opened a studio where I can teach and groom people who are interested in drawing".
Charging a monthly fee of Rs. 3,500 per month for his students numbering about 40, Zamminlun also took other commissioned works and he has been able to create a source of income to support his family.
Though his realistic painting may look real enough to ordinary people, the self taught artist said that he can still find few flaws in his completed works and that he is still trying to make his more work perfect.
Hoping that his achievements can motivate other young artists in the State to work harder Zammilun encouraged all his fellow artists in the State to promote their work as much as they can and to support each other.
Besides other works, he is going to attempt a world record in realistic artwork and for that he is presently working on an artwork with a size of 32 feet in breadth and 42-45 feet in length.
Zaminlun said, " We live in a society and there  can be many factors that can discourage me. But I will not let that happen and I will try to stay strong because i have many other future projects and there are larger things which I want to achieve in life'.
Zamminlun was also awarded the SPANDAN Youth of India Award (ART) during the launch of Spandan Global Artist Day in 2020. He was also the winner of national level 'Art and Art' competition 2019 at ITO New Delhi through public voting among others and he has also participated in different competitions.     
ALSO READ:
First Published:
April 29, 2021, 4:16 p.m.