JAC-Medical Fraternity Churachandpur calls off cease-work protest
A healthcare worker travelling on a COVID-19 vaccination duty along with the driver of the vehicle was brutally attacked by bandh supporters along the Imphal-Churachandpur road on Friday.
---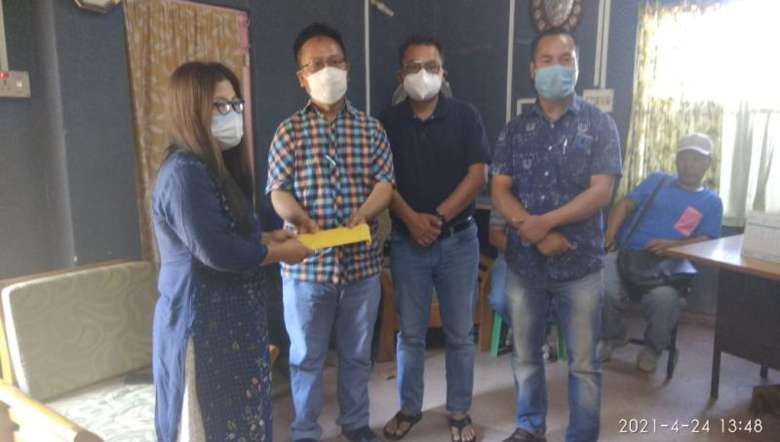 (PHOTO: IFP)
---
The JAC-Medical Fraternity Churachandpur on Saturday morning called off their ongoing cease-work protest on humanitarian grounds.
The decision was made by the JAC after a strong deliberation between the district administration, SPs of Churachandpur and Bishnupur, adhyakshas of Zila Parishad of Bishnupur, Imphal East and Imphal West districts, held at the conference hall of Churachandpur District Hospital. The meeting started at 9 pm on Friday and lasted till midnight.
From the accused side, the party was represented by three Adhyaksas (equivalent to ADC chairman) where after much negotiation the medical team led by the JAC agreed to call off their protest in view of COVID-19 pandemic and in public interest. The accused party also agreed to pay Rs 1,75,000 to the family of the victims for repair of their damaged vehicle and for the medical expenses of their injuries.
The compensatory amount was handed out to the victim's family on Saturday afternoon at the office chamber of Churachandpur CMO by president of the JAC, Dr Jamthianlal Valte in the presence of president of Kuki Khanglai Lawmpi (KKL) GHQ, Kamthang Haokip and others.
After handing out of the compensation to the victim's family, CMO Dr Vumchinpau Tonsing said that they tried their best to bring the best solution in the late hours of the meeting held on Friday night. He further lauded the president of KKL-GHQ for making a good negotiation.
ALSO READ:
First Published:
April 24, 2021, 11:55 p.m.