Woman healthcare worker on COVID-19 vaccination duty attacked by bandh supporters in Manipur
A healthcare worker travelling on a COVID-19 vaccination duty along with the driver of the vehicle was brutally attacked by bandh supporters along the Imphal-Churachandpur road
---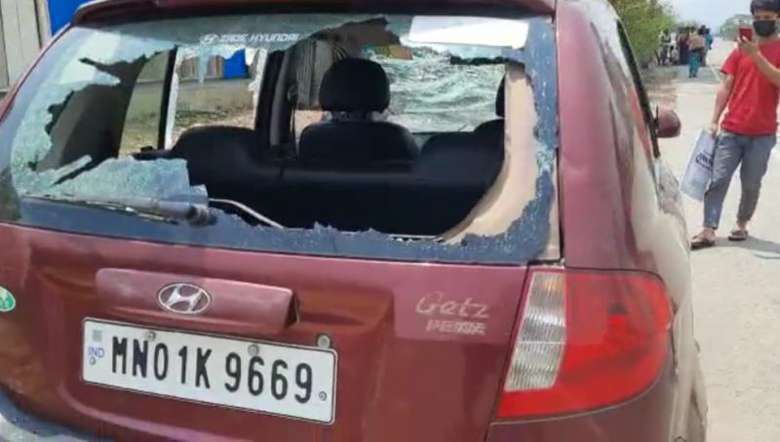 Vehicle of COVID-19 vaccination drive damaged by bandh supporters in Bishnupur district (PHOTO: IFP)
---
In a shocking incident, a female healthcare worker who was travelling on a COVID vaccination duty was brutally assaulted by bandh supporters along the Imphal-Churachandpur road in Bishnupur district of Manipur on Thursday. Her brother who was driving the private vehicle in which she was traveling was also beaten up and the car badly damaged.
A 48-hour bandh is being imposed in all Panchayat areas in the state since April 21 by the Panchayati Raj Institutions (PRIs) of six districts in protest against non-release of MGNREGA fund.
The attack by bandh supporters took place at Phoujagai around 10.20 am when Rosy Themboi Haokip, an ANM (Nurse) posted at Leisang Health and Wellness Centre in Churachandpur district, was on her way to Saikot Primary Health Centre where she was assigned duty for vaccination of Covishield. She was travelling in her private car bearing Regd.No.MN01K 9669 driven by her brother, Lalboi Khongsai.
The ANM nurse told the Hill Hills Journalthat she was permitted free passage by bandh supporters till Kwakta from Keinou when she identified herself as Covishield vaccinator on duty. "The bandh supporters at Khudekpi issued me a vehicle pass for my free passage," she was quoted as saying by the journal.
"However, the bandh supporters at Phoujagai restricted me and my brother to proceed further despite producing all related documents, including my identity card and pass. They also threw away my identity card and pass," she said.
The bandh supporters attacked her brutally when she tried to inform her superior about the restriction.
"When I tried to inform my superior about the restriction, the bandh supporters snatched away my phone and punched me on my face and back but I managed to get back my phone.
The attackers also assaulted her brother who was driving the car and damaged the vehicle, she said.
"Then, the bandh supporters with sticks and other sophisticated melee weapons started damaging my vehicle and assaulted my brother as well," she added.
The healthcare worker further said that the bandh supporters at Phoujagai also used abusive language on them.
With the help of the department concerned, KSO Churachandpur and KKL Rosy Themboi Haokip and her brother Lalboi Khongsai managed to reached the CMO office, Churachandpur.
Covishield vaccination is being carried out in full swing in the state considering the sudden surge of COVID infection. The state government has also issued strict advisory/SOPs owing to the sudden rise of COVID infection in the state. However, emergency service such as medical/health workers were exempted from the purview of the advisory.
It is unfortunate that the bandh supporters not only violated the COVID Advisory/SOP of avoiding large gathering and maintaining social distancing, but were also involved in assaulting a healthcare worker on duty during the pandemic.
Click Here to Read More News From Manipur
ALSO READ
First Published:
April 22, 2021, 3:33 p.m.