Manipur government orders closure of Ima Keithel yet again; women vendors oppose strongly
Tension erupted at Ima Keithel area in Imphal on Wednesday as women vendors strongly opposed the state government's decision to close the market yet again.
---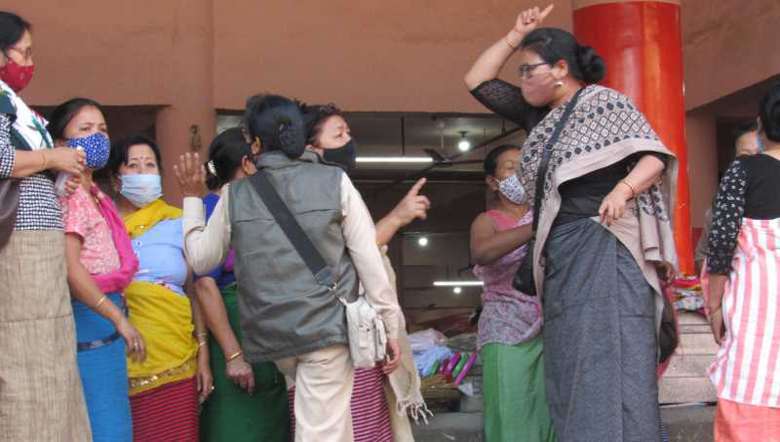 (Photo: IFP)
---
Tension erupted at Ima Keithel (market) area in Imphal Wednesday as the Manipur government ordered immediate closure of the only all-women market in India barely two months of its reopening, in view of the second wave of COVID-19 in the state.
The order issued by the Home Department on Wednesday mentioned closing of the three Ima markets and the adjoining temporary market at Khwairamband for 10 days with immediate effect to help contain the COVID-19 second wave in the state.
Strongly protesting against the government order, women vendors pointed out that big shops and other business establishments in the Thangal Bazar and Paona Bazar were allowed to open under certain conditions.
(PHOTO: IFP_Thomas N)
The order also permitted opening of one shop in every adjacent three shops located in galis of Thangal Bazar and Paona Bazar, wholesale and grocery item shops in Masjid road and Ngari Gali to be opened on rotation.    
The order passed by the government for containing the spread of COVID-19 in the state is "biased" in nature, said Khwairamband Nupi Keithel Sinpham amadi Saktam Kanba  Lup president Thoudam ongbi Shanti  while speaking to the media.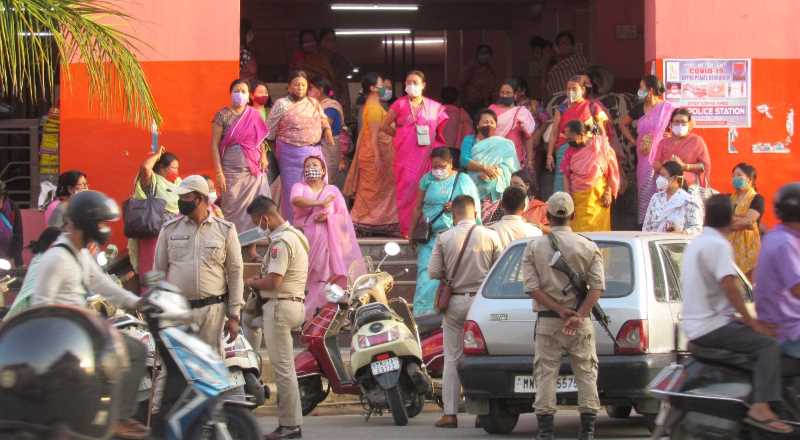 (PHOTO: IFP_Thomas N)
Since Tuesday the women vendors have been vending by following the COVID appropriate behaviour such as wearing face masks, maintaining six feet distance and opening only 50 per cent of the vendors on rotation basis, she said.
Several vendors have not yet recovered from the financial loss suffered during the previous lockdown, Shanti said, adding that the shutting down of Ima Keithels will add to the woes of the vendors.
Although the government imposed certain restrictions, shoppers crowd the shops in galis, causing congestion, she added.
Appealing to the state government to allow the vendors to open by maintaining certain protocols or to also shut down other shops and establishments in the market area, the president said, "The vendors are ready to suffer if closing down only the Ima Keithel will contain the spread of the second wave of COVID-19".
Click Here for More News on Manipur
First Published:
April 21, 2021, 8:51 p.m.