Panchayat ward member, son arrested with drugs
The operation by the Imphal East Police team on Tuesday was assisted by the members of Young Athletic Development Association (YADA) of Khergao
---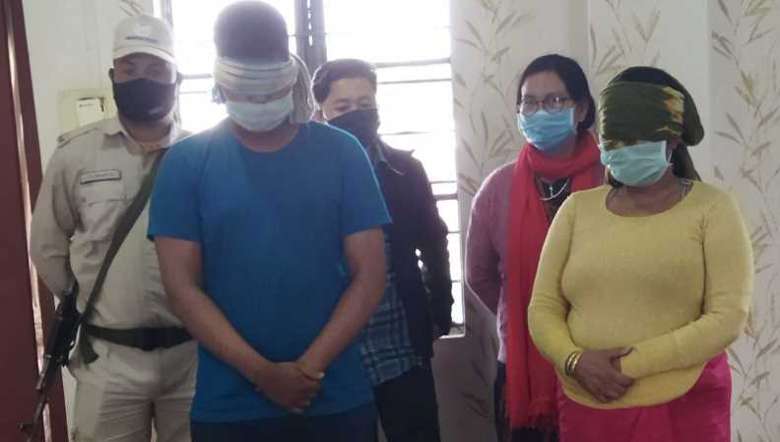 A Panchayat ward member of Kshetrigao Part II Gram Panchayat and her son were arrested and drugs seized from their possession, Imphal East district police sources said on Tuesday.
Superintendent of police, Imphal East, Jogeshchandra Haobijam told reporters during a press conference held at its conference hall located at Porompat, Imphal East on Tuesday that the arrest was carried out by a combined team of Imphal East district police.
He said the duo was allegedly using under-aged children for smuggling of drugs. One Buyamayum Thoibi Begum, 45, wife of late B Abo Khan and her son Buyamayum Abdul Hanal alias Anand, 23 of Kergao Makha Leikai Yumkhaibam Leirak, Imphal East were arrested from their residence during a house-to-house search operation conducted in the area at about 5 am on Tuesday.
The operation on Tuesday was assisted by the members of Young Athletic Development Association (YADA) of Khergao, he mentioned.
Thoibi is presently a sitting panchayat member of Kshetrigao Part II Gram Panchayat, Ward No 4/32. She was elected as a panchayat member in 2017, he further said, adding Thoibi has been found involved in many previous cases related to Narcotic Drugs and Psychotropic Substances.
During the search conducted at her residence, 98 vials of heroin powder, weighing about 29 grams including one empty vial and 790 WY tablets were seized from the possession of Abdul, he said. The seized heroin powder and WY tablets are estimated to be around Rs 4.10 lakh in international market value, he added.
The arrested persons along with the seized items have been handed over to Porompat police station for taking necessary legal action, he added
Jogeshchandra said it is a big success for the district police for arresting such drug smugglers who were found to be abusing under-aged children in their drug smuggling business. He appealed to the people to extend support and cooperation in the state government's 'war on drugs' in order to root out drugs.
Thoibi was arrested by Porompat Police twice in narcotics related cases. It is surprising to find that an elected ward member is still involved in a drug racket," he said.
He further appealed to the public to inform the police if they are aware of drug smuggling in the area.
The locals reportedly tried to interrupt the police while the arrested persons were being taken away. YADA general secretary A Aziz Khan, urging the people not to attack those who try to nab drug dealers, said they should understand that action can be taken against them as per the law.
First Published:
April 20, 2021, 9:57 p.m.