LED installed playfield at Heirok inaugurated
Highlighting the importance of physical fitness and the need for physical activity, sports or play in maintaining a healthy body, Heirok MLA Radheshyam expressed the hope that the newly renovated playfield will inspire local population to take up sporting activities
---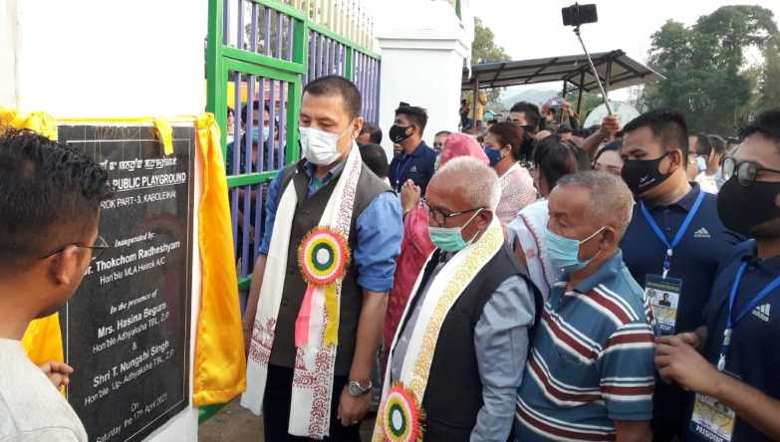 (Photo: IFP)
---
The inauguration ceremony of the newly renovated playfield of Kabo Leikai Development Association (KDA), Heirok part–III where a LED floodlight got installed, was held on Saturday. 
MLA of Heirok assembly constituency, Thokchom Radheshyam, who attended the inaugural event as chief guest, inaugurated the playfield and handed it over to the public.
Speaking on the occasion, Radheshyam said that in order to achieve a well-developed and progressive community, it is imperative that every member of the locality or village is healthy and free of diseases. Highlighting the importance of physical fitness and the need for physical activity, sports or play in maintaining a healthy body, he expressed the hope that the newly renovated playfield will inspire local population to take up sporting activities which will help them in remaining physically fit.
Radheshyam further urged the public to ignore their political affiliations when it comes to development projects and activities. The trees planted on both sides of the streets of Kabo Leikai is indeed soothing for the sight, and if other localities follow suit, Heirok will naturally become a model place. "Let us strive together in unity to make Heirok a model assembly constituency," he appealed.
Assuring that the playfields of Tourangbam Leikai Youth Club and NESA Nongpok Sekmai will be renovated in a similar manner, Radheshyam stated that he will make efforts for construction of a gallery at KDA playfield along with a building for a gym and library. He also expressed his appreciation for the initiatives taken up by KDA to improve human resources in the locality.
Upadhyaksha of Thoubal zilla parishad, T Nungshi said that the playfield will be able to keep local youths away from drugs, and also help in producing quality sportspersons who will bring fame to the locality.
Later, an exhibition football match between players of KDA was held under the moonlight and the aided facility of the LED floodlight at the playfield.
Pradhan Heirok part -III gram panchayat, N Tangba attended the inaugural event as president along with adhyaksha of Thoubal zilla parishad, Hasina Begum and other  zilla parishad members as guests of honour.
ALSO READ
First Published:
April 17, 2021, 11:28 p.m.