Thingyan 2021: Manipur University celebrates Myanmar's water festival
During the festival, multiple events were exhibited which included Ngamu Thaba, Burmese Cuisines, Burmese Costumes, Photo exhibition, Talk show and Cultural dance of Myanmar and Manipur performed by the students of Manipur University
---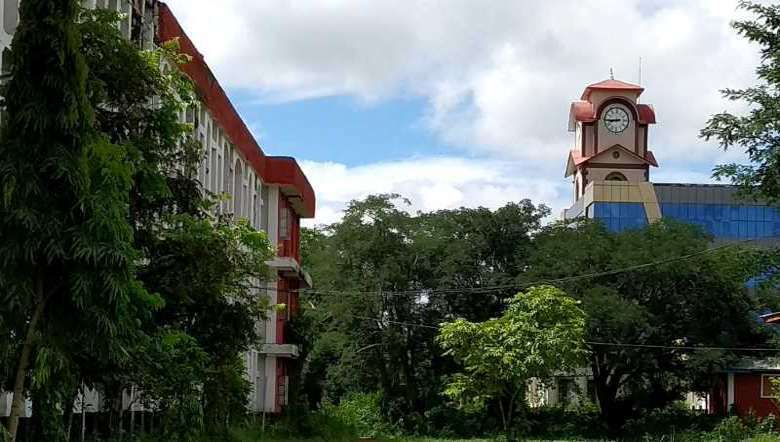 Thingyan festival, commonly referred to as the water festival celebrated across Myanmar as a New Year festival has not been celebrated in this year following the military coup and the subsequent protest which has rocked the nation. However, expressing solidarity to the people of Myanmar, Manipur University-Centre for Myanmar Studies organised a two-day Thingyan festival.
The Thingyan festival organised by the Centre for Myanmar Studies, Manipur University concluded on Friday with a Burmese song performed by a renowned singer of Manipur Arbin Soibam, stated a release.
During the festival, multiple events were exhibited which included Ngamu Thaba, Burmese Cuisines, Burmese Costumes, Photo exhibition, Talk show and Cultural dance of Myanmar and Manipur performed by the students of Manipur University, it stated.  
It stated that the Centre invited children in and around the campus of the University and offered sweets and Burmese Cuisines. The Centre encouraged planting of Awathabi (Papaya) as a symbol of bonding between Myanmar and Manipur, it added.  
Students and Teachers of the University took part during the festival and coincidentally, many tourists took part, it stated.  
Four main speakers were invited by the Centre to give a special talk during the festival, it stated adding on the first day of the festival, Head, department of Manipuri, MU professor T Tampha Devi  spoke on the topic Ngamu Thaba while associate professor, department of Manipuri, MU Ch Rajketan gave his presentation on the Historical Relation between Manipur-Burma Relation.
On the second day, president, Indo-Myanmar Association Sh Samu gave his talk on the Historical Genesis of Thingyan and P Milan Khangemcha of department of Philosophy, MU spoke on the theme of water from the Buddhist point of view, it added.
The first day was kicked off at Manipur University with the sprinkling of water with "Thabyay" by releasing fishes at the Canchi Park, Manipur University, it stated.  
Further, the chief guest inaugurated the function by way of watering at the papaya plants at the amphitheatre, Centenary Hall of the University, it mentioned. MU Vice chancellor, professor S Sanatombi Singh, registrar professor W Chandbabu and dean, Students Welfare L Bishwanath Sharma attended the function, it added.
First Published:
April 16, 2021, 11:56 p.m.