Vibrant colours of 'Khamor Angkhui' festival light up Chingjaroi village in Ukhrul district of Manipur
Villagers in Chingjaroi pray for good rain and rich harvest as they celebrate Khamor Angkhui, one of the biggest festival in the region.
---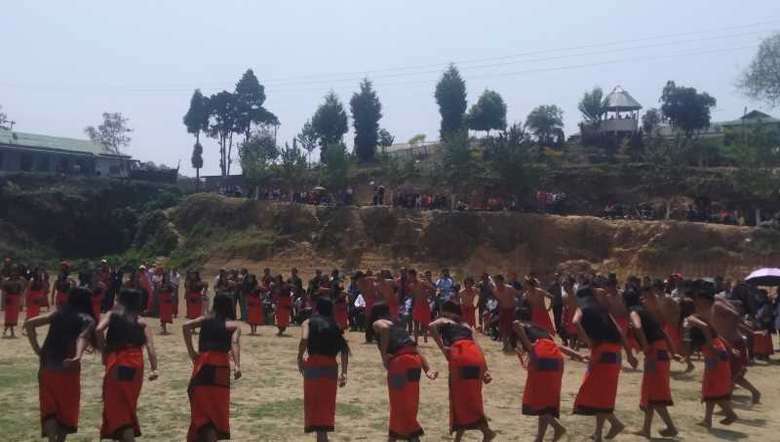 'Khamor Angkhui' festival light up Chingjaroi village in Ukhrul district of Manipur (PHOTO: IFP)
---
Heralding the time to pray for rain and seek God's blessing as villagers begin agricultural activities for the year, Chingjaroi village of Ukhrul district with scenic beauty began observing one of its biggest cultural festivals—Khamor Angkhui—with great jubilation from Wednesday. It is a five-day-long festival marked with merrymaking, including exhibition of cultural folk dance and songs, age-old traditional bread making and feasting.
The tradition of bread making during the 'Khamor Angkhui' or 'Khama Angkhui' festival has a deep-rooted relationship with God whose name the people invoked for his blessings. The festival is not only a time for merry making. It is a time to seek God's blessings so that they could begin their agricultural activities with good health. It is believed that God will take away all the negative circumstances that stare at them as they invoked God's name. They strongly believe that all the bad omens will be wiped away as they humbled themselves before God with the celebration of the festival.
According to an elder of Chingjaroi village - the festival was originally called 'Angkamah Angkhui'.  'Angamah' means ancient and 'Angkhui' means festival. With the passage of time, the festival came to be observed as 'Khama Angkhui' or 'Khamor Angkhui'. Neibouring Pauma, Paomata and Mao called it 'Shoma Daoni Daoni', meaning ancient festival.
Joining the celebration, several leaders of the district extended greetings to the villagers on the occasion and lauded the deep sense of unity among the people.
"Our culture tells us our origin. It also shows us how our forefathers used to live. While preserving our identity, we must embrace the change in keeping with the time," district official Ningam Chamroy said as he urged the villagers to preserve the rich culture passed down by the forefathers.
Meanwhile, Chingai NPF MLA Khashim Vashum, who attended as the inaugural function chief guest at Chingjaroi CV said, "I will never forget the support and love bestowed to me by your village. When the time comes, I will wholeheartedly extend my support to you as you have done".
To lessen the burden of having to travel long distance to get medical help, he said, "I will work towards bringing a PHC to your village." To mitigate the water scarcity issue faced by the people, he assured the villagers that he will provide the required pipeline facilities so that uninterrupted water reaches the people. He also assured the people that Rs 5 lakh would be provided for construction of inter-village road and Peh to Chingjaroi and Chingjaroi to Phaiphung roads in Poumai area.
Commenting on the ongoing PMGYS road construction, he said that he will make sure the construction work reaches the village stretch though it is located out of the ongoing target area. He urged the people to voice their constructive pressure and not depend only on village authorities. He also inaugurated Chingjaroi CV Ever Shine Youth Organization (EYO) office.
Social activist Ashim Pearl, who attended as the cultural special guest, urged the villagers to preserve the rich culture and appealed to the youth to learn Tangkhul dialect, saying western philosophy is not superior. Ngamreiwung Luithui attended as the guest of honour at Chingjaroi Khullen, while the area councillor Tuizar Lawrence attended as the guest of honour at Chingjaroi CV.
Chingjaroi is popular for its eye-catching scenic beauty of tourists' interests, including the Chingjui peak, Akharo, Japan Kafalokatiu, waterfalls, lovers point and many others. It also offers visitors a picture perfect view of scenic poumai region, and a glance of Neighbouring Nagaland's mount Saramati and few villages under Pheh district.
First Published:
April 15, 2021, 10:43 a.m.