Rights groups urge NHRC to direct CS for compensation to Sintha Laishram
Human rights groups stated in a letter that a team of Thoubal police came to Sintha's house on April 7 and took him away in a police vehicle without any arrest memo or arrest warrant.
---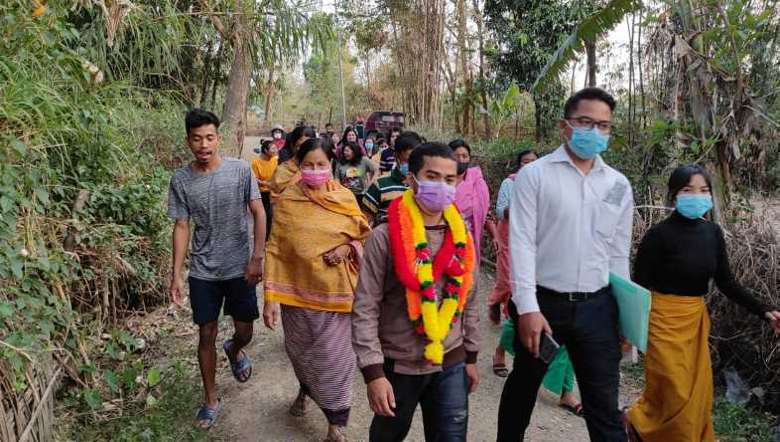 Sintha Laishram (File Photo)
---
Rights groups on Wednesday alleged the police registered an FIR based on false charges in the arrest of Sintha Laishram and urged the National Human Rights Commission (NHRC) to direct the chief secretary of Manipur to provide adequate compensation for violation of his fundamental rights and mental trauma inflicted upon him.
The rights groups, including the HRD Alert-India (HRDA), Human Rights Alert (HRA) and the Commonwealth Human Rights Initiative (CHRI) sought the NHRC intervention in the alleged misuse of law and non-compliance with mandatory procedures by the Manipur Police to harass, ill-treat and falsely implicate human rights defender Sintha Laishram who is also the general secretary of Coalition Against Drug and Alcohol (CADA).
In a letter addressed to human rights defender and assistant registrar of NHRC, CS Mawri, the rights groups stated that Sintha Laishram was arrested by Thoubal Police on being charged under the draconian Unlawful Activities Prevention Act (UAPA), on April 7.
It stated that Sintha is CADA secretary-general in Thoubal district, which is an established civil body, campaigning against the menace of drugs and alcohol abuse in Manipur. The day when Sintha was arrested, the CADA had organised a protest meeting against the recent acquittal of chairman ADC Moreh, Lhukhosei Zou, who was arrested along with seven others in a drug haul case in 2018.
The letter stated that a team of Thoubal police came to Sintha's house on April 7 and took him away in a police vehicle without any arrest memo or arrest warrant. On covering a distance of 3 km away from his house, Sintha was shifted to another vehicle of Thoubal Police commandos and taken to Thoubal police station. Inside the police station, Sintha was slapped on his face by inspector Tiken for not signing the arrest memo, it added.
"Sintha refused to sign the arrest memo because it stated that he worked with militant groups, a charge he categorically denies," the letter stated.
It mentioned that an FIR was registered under section 39 of UAPA against Sintha Laishram by sub-divisional officer H Johny Sharma. The "FIR fabricating" the arrest stated that Sintha was arrested at Wangjing near Canteen Lampak on the charge of being an over ground worker of a militant group, it added.
The letter also alleged that police registered the FIR based on false charges that they received information of "some cadres of banned outlawed were loitering around the Wangjing area. Acting on the information, a joint police team of commando unit Thoubal immediately rushed to the area and conducted frisking, checking near canteen Lampak. The police saw an unknown person coming in a suspicious manner and he was detained for his suspicious manner. On verification, it was proved that he was an over-ground worker of a banned outlawed organisation and he was arrested." In reality, Sintha was picked up from his residence in the presence of his parents and his arrest was also witnessed by the neighbours, it added.
The Chief Judicial Magistrate, Thoubal granted bail to Sintha Laishram on Monday, on finding no evidence of the charges slapped against him.  
The rights groups appealed to the NHRC to treat the matter as a case of reprisal against a human rights defender for exercising his fundamental rights guaranteed through Article 19 of the Indian Constitution.
Further, the rights groups urged NHRC to direct the DGP, Manipur to produce within 48 hours all relevant documents pertaining to the arrest of Sintha for an independent examination. The rights groups urged the Commission's investigation wing to examine the legality and conduct of Heirok police station for the raids undertaken at the residence of one Sofia Khundongbam.
Depending upon the result of the investigation, it further urged to direct the director general of Police of Manipur to take necessary disciplinary actions and institute legal proceedings under relevant IPC sections against all police officials involved in the ill-treatment, harassment, misuse of powers and violation of arrest guidelines in the case.
First Published:
April 14, 2021, 9:15 p.m.