Manipur: COVID-19 active case tally climbs to 133 as 21 more test positive
The cumulative COVID-19 positive tally in Manipur reached 29,561, according to the state health department.
---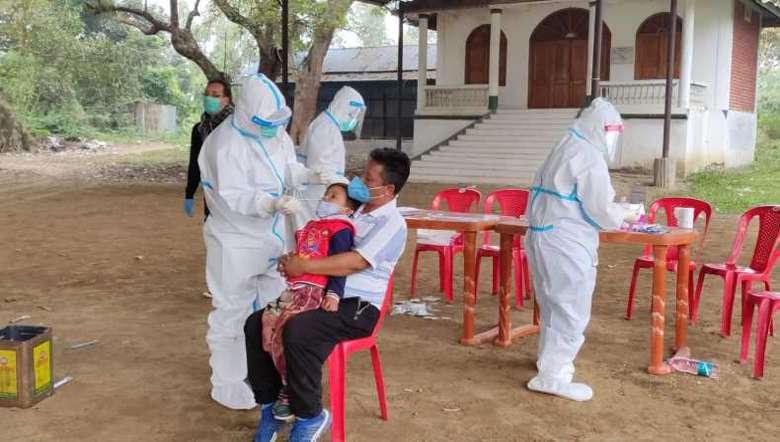 (Photo: IFP)
---
Manipur on Wednesday reported 21 new COVID-19 positive cases from the general population, pushing the cumulative positive tally to 29,561 cases, according to the state health department.
The new cases included 10 from Imphal West, one from Thoubal, four from Bishnupur, fibe from Churachandpur and one from Tengnoupal, as per the release from the state Common COVID-19 Control Room.
All necessary medical precautionary measures like containment and contact tracing are in place, Dr Kh Sasheekumar Mangang, Aditional director and spokesperson, Manipur Health Department, stated in the release.
The state reported no COVID-19 related fatality on Wednesday, the release stated.
Meanwhile, six persons infected with the disease have recovered, the release stated. With it, the total number of recovered cases has reached 29,052. The recovery rate dipped to 98.27 per cent on Wednesday from 98.32 per cent on Tuesday. The number of active cases moved to 133 on Wednesday from 118 on Tuesday, the release added.
In all, 5,89,389 test results have been received, including the results of 849 tests received on Wednesday, according to the state health department.
Air passengers who arrived in the state on April 10 by Indigo flights 6E-2615 in rows 23-29 and 6E-524 in rows 22-28 and on April 11 by Indigo flights 6E-172 in rows 1-5 and 6E-2251 in rows 10-16 are to inform the Common COVID-19 Control Room No 18003453818 or respective district surveillance officers immediately.
COVID Vaccination in Manipur April 13
The total number of COVID-19 vaccine beneficiaries in the state reached 98,781 as 1,815 more people were vaccinated across the state on Tuesday. In all, 32,092 healthcare workers were reported vaccinated with COVID vaccine as of Tuesday.
There are no severe reactions or allergies or adverse event following the vaccination till date, and all who suffered from mild reactions and in homecare have recovered, the state department added.
First Published:
April 14, 2021, 7:50 p.m.