Manipur's COVID-19 positive tally crossed 29,500
COVID-19 active tally in Manipur rose to 103 with the report of 18 new positive cases, including four air passengers, on Monday.
---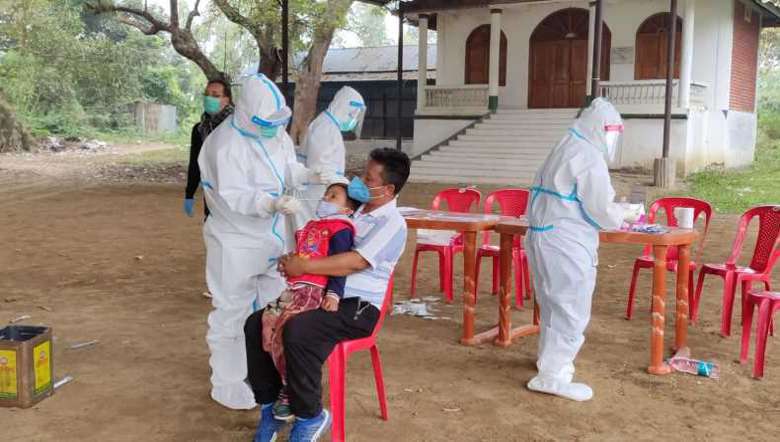 COVID-19 confirmed cases in Manipur crossed the tally of 29,500 as 18 more people, including four air passengers, tested positive for the infection on Monday, according to the state health department.
The cumulative number of air passengers who tested positive for COVID-19 at the Bir Tikendrajit International Airport in Imphal reached 55 on Monday, while the cumulative COVID-19 tally in the state reached 29,514, as per the latest official update.
Among the new cases, eight are from Imphal West, six from Imphal East, one each from Churachandpur, and Jiribam and two from Kangpokpi. All necessary medical precautionary measures are in place, stated a release from the state Common COVID-19 Control Room.
No COVID-related fatality case was reported on Monday and the death toll remained 376, according to the release.
Meanwhile six persons infected with COVID-19, all in home isolation, were reported recovered. With it the total number of recovery cases reached 29,035, while the cumulative number of COVID-19 active cases rose to 103. The recovery rate is 98.37 per cent, the release stated.
The air passengers who were reported infected with Coronavirus travelled to the state on April 10 by Indigo flights 6E-2615 in rows 23-29 and 6E-524 in rows 22-28 and on April 11 by Indigo Flights 6E-172 in rows 1-5 and 6E-2251 in rows 10-16. The passengers have been asked to inform the  Common COVID-19 Control Room No 18003453818 or respective district surveillance officers immediately.
COVID-19 vaccination on April 11:  
As per the latest information, 1618 people were vaccinated with Covid vaccine on April 11. In total, 94566 people in the state have been administered COVID-19 vaccine. Of it, 31,976 healthcare workers in the state have been vaccinated so far.
There are no severe reactions or allergies or adverse event following the vaccination till date, the release stated, addint that all who suffered from mild reactions and in homecare have recovered.
ALSO READ
First Published:
April 12, 2021, 6:24 p.m.