Celebration of 50 years of Manipuri Cinema: Bouquet of films delights audience on Day 3
The Cine Dialogue on Day-3 featured renowned self-taught filmmaker Rima Das from Assam and documentary filmmaker Bobo Khuraijam of Manipur.
---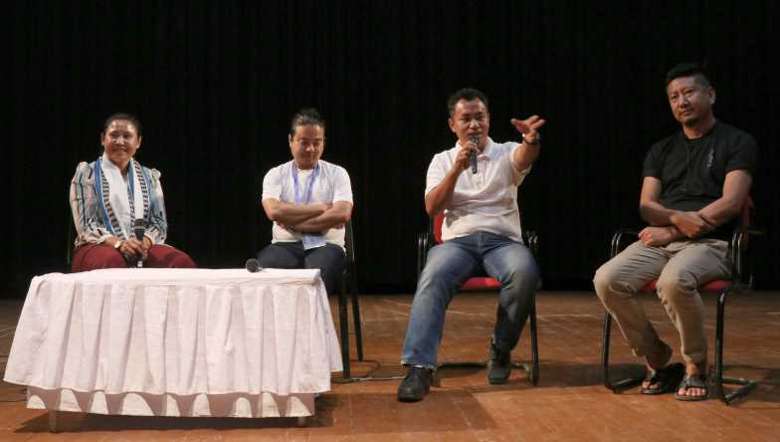 The palace auditorium of Manipur State Film Development Society (MSFDS) was packed on Sunday as hundreds of people turned up for the third day of Golden Jubilee Celebration of Manipuri Cinema. The day opened with the screening of Look At The Sky by Ashok Veilou. I Rise by Borun Thokchom, Noong Amadi Yerum by Romi Meitei, Sanakeithel by MA Singh and Lammei by Oken Amakcham and O Gautam were also screened for the public.  
The inspiring story of Manipuri boxer L Sarita shown in the 52 minute-long documentary film I Rise by Borun Thokchom left the audience spellbound. Sarita and her husband Ch Thoiba along with the director took part in the post-screening interaction session moderated by Oinam Doren.
The film was shot in a span of five years, Borun said, adding that a challenge for every documentary filmmaker is establishing good attachment with the character and that it takes time.
"To make the shots natural, the characters should feel comfortable in front of the camera. We even visited without camera on several occasions to strengthen the relationship with characters," he stated. 
Borun also acknowledged that collective efforts of the whole film team made the film possible. 
Sarita, who became a celebrated sports star of international fame by overcoming all odds and her husband, also shared their experiences with the film. The couple also narrated their heartwarming stories during the interaction. 
Meanwhile, the Cine Dialogue in the morning featured a conversation between renowned self-taught filmmaker Rima Das from Assam and documentary filmmaker Bobo Khuraijam of Manipur. 
Responding to a query by Bobo, Rima Das said, "Our characters are a reflection of self. It is difficult to completely separate yourself from the characters. Sometimes, I feel like I am making the same films again and again."
When asked about detaching from the characters one has created, she said that everyone has their own social and political opinions pertaining to the different backgrounds people grew up in. 
"I sometimes put my opinion through the characters' dialogue. But they can be separated by studying the background of the character. This way, we can portray the character with authenticity," she said, adding that she is very careful with dialogues. 
Talking about avenues of production, Rima exhorted upcoming filmmakers to explore the co-production market if they have limited budgets. She encouraged them to keep trying with the limited resources and by tying up with likeminded people.
ALSO READ
First Published:
April 12, 2021, 12:04 a.m.