11th 7 Aside Men Open Football Tournament concludes
Lanchenbi FC Toubungkhok and RFC Khamnam Leirak played their best to outperform each other in the final match on Saturday.
---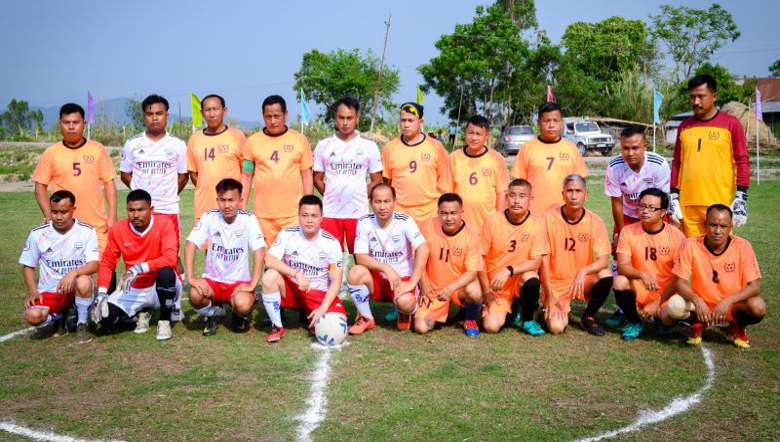 The 11th 7 Aside Men Open Football Tournament concluded with both the teams Lanchenbi FC Toubungkhok and RFC Khamnam Leirak playing their best to outperform each other in the final match on Saturday at Atongkhuman Youth Development Club(Gound), Sangaithel Road.
The tournament was held with the motive to encourage the youths to indulge in football and other sports rather than stepping into drugs and social menace.
Speaking at the closing ceremony at the chief guest, CAF & PD Minister Th Satyabrata expressed that both the teams that have reached the final can be called winners even though there has to be a winner and a loser in any match. He also said that it is high time we need to focus on grooming the talents of our youths so that they can compete at the international level.
"It is true that Manipur is a sports powerhouse but we usually encounter hiccups when reaching the international arena although we perform well at the national level. There are steps needed to be taken up to rectify the lapses that may occur due to deficient diet or lack of proper training. We need to work in this area," he stated.
Minister Satyabrata also appealed to the Atongkhuman Youth Development Club to nurture the children and youths at the grassroots level in the beautiful YDC ground by providing them training with coaches so that they can become promising players in future.
Chairman Manipur Building and Other Construction Workers' Welfare Board MLA Heikham Dingo Singh said that the main purpose of organising the tournament is to prevent the youths of the state from drowning in the sea of drugs and spread a message to the public about its significance. He also requested the public to adhere to Covid norms by using masks, sanitisers, maintaining social distancing in daily routine and taking care of overall health.
Deputy speaker MLA Kongkham Robindro Singh, who was the guest of honour at the function, appreciated MLA Dingo for the welfare activities and developmental works he had taken up in his Sekmai assembly constituency
Meanwhile, there was a friendly match between MLAs and Imphal West Pradhan in which MLA team beat Padhan team by 2-0. MLA Dingo scored both the 2 goals of the match that made him the first scorer of the match and received Rs 500 cash prize donated by Thokchom Gambhir.
Minister Satyabrata and MLAs Dingo and Robindro provided financial assistance to the YDC club to enhance their future activities.
Deputy chairman planning L Rameshore Meitei, Zilla Parishad Mayanglangzing K Sohadeva Singh, Pradhan Ngairangbam Th.Sanjoy Meitei, Pradhan Lairenkabi Kadangband, people of Sekmai assembly constituency and nearby locals of the club took part in the function.
First Published:
April 11, 2021, 12:01 a.m.