YWU Kakching lift champion title Ksh Kishorkumar Memorial football league
YWU Kakching with 9 points and KMSWC Keirak with 6 points have been promoted to Super Division League.
---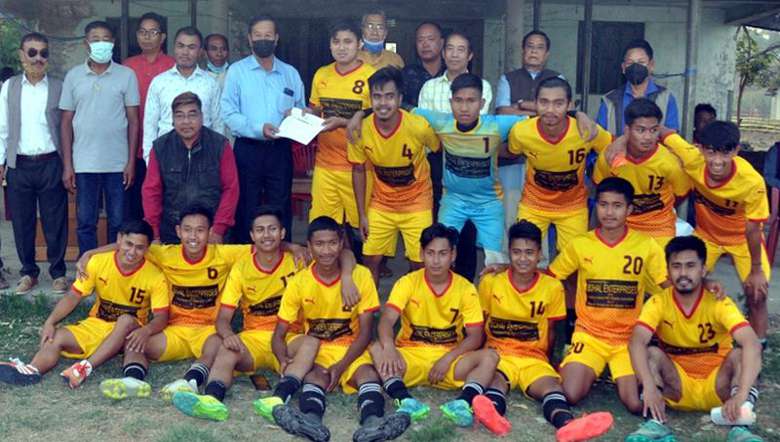 (PHOTO: IFP)
---
Youth Welfare Union (YWU), Kakching thrashed AIFA Irengband by 4-1 goals on Friday to lift the champion title of the18th Ksh Kishorkumar Memorial 1st Division Football League Tournament 2021 played at DSA Kakching Ground.

The YWU and AIFA teams were raring to go in the final match as they had a point to prove that they are the best. And at the same time, both teams had another reason to perform better as the champion team will be promoted to Super Division from next season.

The match started off for AIFA Irengband with Vikash Singh netting in the opening goal in the 14th minute for the lead. However, YWU Kakching replied strongly and Nobinchandra Singh fetched the equaliser within a short period to level the score. Far from taking it easy after equalising, YWU kept on increasing the pace and soon consolidated when Longamba Singh pushed home another goal in the 34th minute to enjoy the lead in the first half.
Confidence grew up more for the YWU team in the second half with Denish Singh banging home the third goal in the 67th minute to dominate the game further. Surjakanta Singh wrapped up the match after shooting home the winning goal in the 89th minute for YWU to lift the champion title.

AIFA players Romen and Roshan along with YWU players Longamba and Sandstone received a yellow card each from referee Parsuram Singh for dangerous play.

Among the individual awardees, Md Samir of KMSWC team bagged the best player as well as the highest scorer of the tournament while M Denish of YWU Kakching fetched the best midfielder title. P Johnson and Ksh. Zidane of YWU Kakching won the best defender and best goalkeeper titles respectively. The title for best discipline was given to DYA Elangkhangpokpi.
With the completion of the League, YWU Kakching with 9 points and KMSWC Keirak with 6 points have been promoted to Super Division League. The DYA and AIFA teams were able to collect only 1 point each.
First Published:
April 10, 2021, 1:35 a.m.