The price of child labour
Whatever the cause, child labour compounds social inequality and discrimination and robs girls and boys off their childhood.
---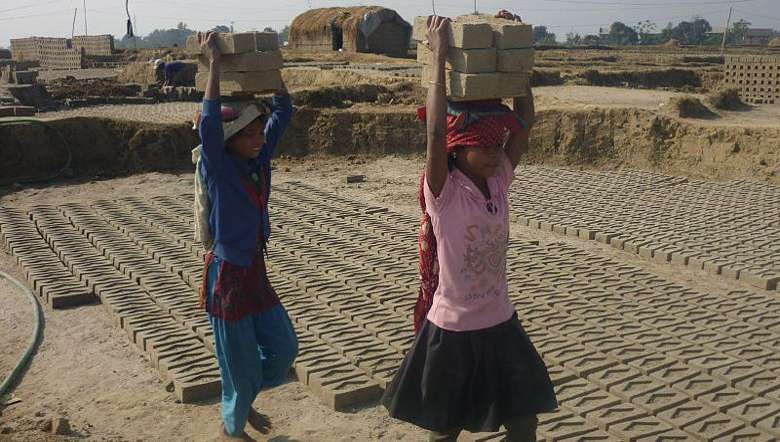 Representational Image (PHOTO: Wikimedia Commons)
---
Selling colourful balloons, braving all kinds of pollutions at a busy and crowded roadside in Imphal, the capital of Manipur, a boy of 11 hails from Bihar in eastern India. The little money he makes goes into ensuring his survival and in paying the occasional bribe to a policeman. He does not go to school as poverty deprives him of the resources. Many children like him are forced to spend their days out on the street or in dingy workshops at a time when they should be educated and their futures secured.
Children may be driven into work for various reasons. Most often child labour occurs when families face financial challenges. Economic hardship exacts a toll on millions of families worldwide and, in some places, it comes at the price of a child's physical safety. Nearly one in 10 children across the globe (around 152 million) are subjected to child labour, almost half of whom are in hazardous forms of work. Families of these children face financial challenges and uncertainty whether due to poverty, sudden illness of a caregiver or job loss of a primary wage earner. The consequences are staggering. Child labour can result in extreme bodily and mental harm and even death. It can lead to slavery and sexual or economic exploitation. And in nearly every case, it cuts children off from schooling and healthcare, restricting their fundamental rights and threatening their futures.
Migrant and refugee children – many of whom have been uprooted by conflict, disaster or poverty also risk being forced into work and even trafficked, especially if they are migrating alone or taking irregular routes with their families.
Trafficked children are often subjected to violence, abuse and other human rights violations. And some may be forced to break the law. For girls the threat of sexual exploitation looms large, while boys may be exploited by armed forces or groups. Whatever the cause, child labour compounds social inequality and discrimination and robs girls and boys off their childhood. Unlike activities that help children develops such as contributing to light housework or taking on a job during school holidays, child labour limits access to education and harms a child's physical, mental and social growth.
Girl child suffer the most. Especially for girls, the "triple burden" of school, work and household chores heightens their risk of falling behind, making them even more vulnerable to poverty and exclusion.
In developing countries, including Pakistan, child labour is spreading despite efforts to eradicate it. Child labour is visible in shopping areas, repair shops, workshops etc. Girls are employed in houses as domestic helper. Another form is, as child beggars or child vendors. For many families, daily wages might not be enough to provide even food. Government social security programs are inadequate and do not cover a vast number of destitute families. These circumstances force many parents to make their children work for a living. In business, workshops or rich families, the child workers initially earn little or nothing but parents do not mind as long as he/she is fed once or twice a day. The employers treat them roughly and the duty hours are generally longer than those prescribed for grown up labours. Yet, the children, working as helpers in shops or workshops learn one trade or the other. They become tough as well as worldly wise which would help them later. After working for 5-10 years, they hope to earn reasonable wages. Girl child are worse sufferers. They are generally discriminated in food or education. They maintain poor health compare to their brothers. Many are seldom sent to school. Some of those who work in shops, workshops and tailor shops etc. as helpers are dropouts from primary or middle schools that have a sort of "animosity" against teachers or the school system. Some of them do develop into expert technicians; most would be mediocre technical hands. Some children mostly boys after school and during holidays assist in the family of profession. Most of them also good at studies.
However, certain factors are disturbing family lifestyle as well as income. If the parents are pushed near or below the poverty line, these young children would be most affected and end up as child labour. Cottage and small-scale industries engage large number of young boys and girls in the production or packing process which is dangerous. The work is arduous against which wage are meager. Remedial efforts are about to tackle child labour, jointly by industries, the government and international agencies.
The Manipur case scenario
In defiance of child labour (Prohibition and Regulation) Act 1986, establishment in India's north eastern states, Manipur employs over 1200 under the age of 14 as labour up to February 8, 2013 as reported by Reuters. In the state capital Imphal, children working as vendors at traffic intersection and in eateries are a common sight. Forced to work at an age when they should study, the children's poverty makes them unable to afford school. Those that attend school are forced to drop out. The prospect of cheap labour makes such children lucrative for establishment owners, who then set them to doing stresses and often hazardous work.
A law prohibiting the employment of children in homes and in the hospitality industry came into effect in October 2006. The law, where violators face a jail term up to two years and maximum fine of Rs 20,000 is an extension of the previous 1986 ban prohibiting children from working jobs deemed too hazardous for minors, such as in factories and mines. Authorities in Imphal, however, claim that the number has reduced in recent years.  A state Labour Department report says that in 2001, the state had over 2,800 child labour, a number that has gone down to less than half in the previous year. In 2009-2010, the National Sample Survey Organization undertook a survey. According to their data, there were 1200 plus child laborers in Manipur.
Is the law implemented effectively in Manipur?
The number of child labourers in Manipur as per the official figure has decreased. However, child right campaigners say, like the previous ban in 1996, the 2006 law has never been properly implemented or enforced.
Children working in lower-end restaurants and highway food stalls are a common sight in many parts of India and many urban middleclass households hire young boys and girls from poor families as servants in Manipur too.
The Indian Government states that 126,321 trafficked children were rescued in 2011-12 a rise of 27 per cent from the previous year as millions of children in India continue to be driven into labour by poverty.  Of them, several children hail from Manipur as their parents and guardians remain ignorant and are easily lured to send their children away in the hope of better future for them.
(The views expressed are the writer's own)
First Published:
April 8, 2021, 3:09 p.m.