All set for Hun, Thadou's biggest cultural festival in Kangpokpi
The Hun will be organised under the theme, 'My Culture, My Identity' in two sessions on April 7.
---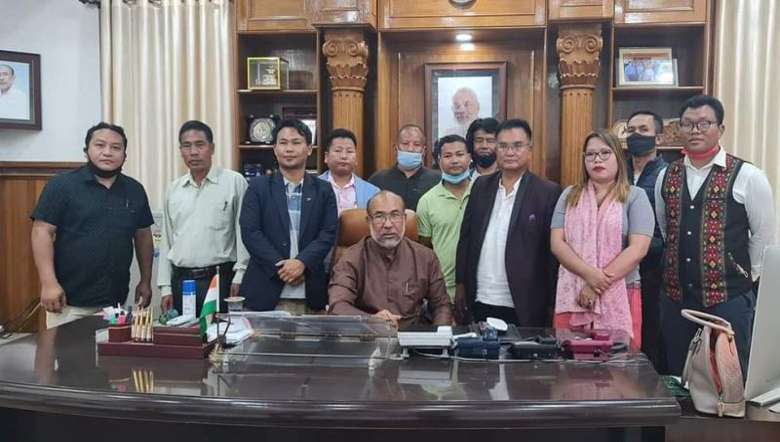 Hun Festival Organising Committee 2021, Thadou Inpi and Thadou Students' Association leaders called on CM Biren on Monday (PHOTO: Twitter)
---
As the Thadou community across Manipur and the nation are all set to celebrate Hun, the biggest cultural festival of the Thadou in Kangpokpi district headquarters on April 7, stage preparation, Mr and Miss Hun contestants, cultural extravaganza, artistes, guests, etc. are all prepared for the grand celebration.
Hun, according to the organising committee, is a civilising act of the Thadous, the second largest community in the state, and Hun is the most important and biggest cultural festival among all festivals of the community.
Hun, etymologically signifies time and season. The time here significantly encompasses something of the entire cosmology-from earth to heaven, death to life, and all the affairs of man and his spirituality. Hun is an archaic but formal form of time in the above sense of the language.
The Hun will be organised under the theme, 'My Culture, My Identity' in two sessions- noon session and night session. During the noon session, display and performance of Thadou cultural extravaganza will be the main highlight of the programme while showcasing the glorious Mr and Miss Thadou 2021, Hun band and various prominent artistes live on stage will be the main highlight of the evening programme.
The momentous festival of the Thadou community will be attended by Tribal Affairs and Hills Minister Vungzagin Valte as chief guest in the noon session while MLA Th Radheshyam and MLA Nemcha Kipgen will attend as guests of honours and M Paokholun Haokip, Longjapa (Chief of Longja) will take part as the president.
Meanwhile, the night session will be attended by MLA V Hangkhanlian as chief guest, brigadier PS Arora, Sector 22 commander and CEO SH-ADC Kangpokpi James Doujapao Haokip as guests of honour and former ADC Sadar Hills chairman Haokholal Hangshing as president.
First Published:
April 6, 2021, 1:41 a.m.