Manipuri actors Joseph and Rangilal share inspiring story at Pre-Easter Worship in Kangpokpi
An open air preaching was held during the Pre-Easter Worship programme in Kangpokpi town on Saturday.
---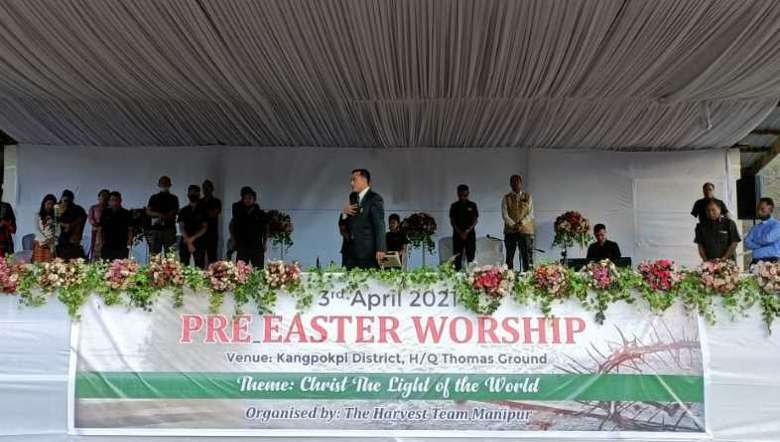 A Pre-Easter Worship was peacefully held under the theme 'Christ the light of the World' at Brig M Thomas Ground, Kangpokpi district Saturday.
An open air preaching was also held during the worship programme organised by the Harvest Team Manipur in collaboration with Kangpokpi Town Churches Fellowship and Kangpokpi Town Committee, Kangpokpi Women Welfare Organisation and Kangpokpi Youth Union.
Evan T Ramananda attended as the speaker while Manipuri actors Joseph and Rangilal attended as entertainers.
Apart from hundreds of participants from various communities within the town and its adjoining area, village chiefs, local bodies' leaders, members of Kangpokpi Town Churches Fellowship, various church leaders also attended the programme.
Evan T Ramananda in his speech on the theme talked about the value of life and its importance stating that "Jesus Christ came to the world to let us know how valuable our life is."
In his inspiring speech on the value of life, the evangelist said that nowadays life has become cheaper than a branded costly car and killing of a person is less considered as wrong than killing an animal and it is because people have become blind as to how much important is life and its value.
He further said that Jesus Christ is not the God of one community or nation, he is the only one who came on earth to forgive the sins of men which give the light to the world and find eternal life. No man's death day is never in the world recorded as good as people mourn and are sad but the day Jesus Christ was crucified has been declared by the world as Good Friday since he brought light to the world, he added.
Actors Joseph and Rangilal entertained the people with an inspiring Gospel short story on the occasion. 
Meanwhile, Kangpokpi Town Churches Fellowship and Kangpokpi Town Committee including the women and youth union expressed profound gratitude to the Harvest Team Manipur for their priceless programme and Gospel message to the people of Kangpokpi during the passion week and ahead of Easter Sunday.
ALSO READ
First Published:
April 3, 2021, 9:42 p.m.