Opium worth Rs 4.2 crore seized, drug dealer arrested in Imphal West
Opium worth Rs 4,22,25,000 crore in the international market and Rs 19.85 lakh cash were seized from the house of one person by the Imphal West Police on Saturday.
---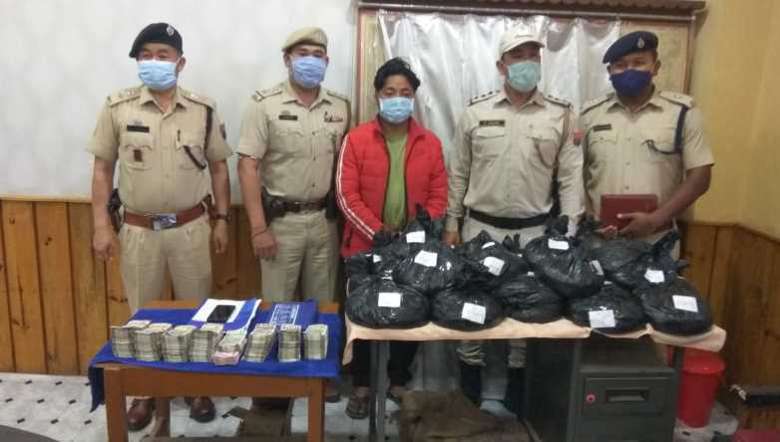 Drug dealer (C) arrested with opium and cash (Photo: IFP)
---
A drug dealer was arrested and opium worth around Rs 4,22,25,000 in the international market seized along with Rs 19.85 lakh cash at Kanglatongbi, Shantipur area by a team of Imphal West district police commando, a police official said on Saturday.
Superintendent of Police, Imphal West, K Meghachandra said during a press conference held at Babupara in Imphal West that following a tipoff about the presence of anti-social elements at Kanglatongbi, Shantipur area, a search was conducted on Friday as a part of the 'War on drugs' initiated by the present government to root out drugs from Manipur.
The SP said the police team, while conducting a patrolling and checking in the area, saw a person moving in a suspicious manner. The man ran inside a house on seeing the police team, he said. On verification, the person identified himself as one Sandeep Limbu, 31, son of late Manbir Limbu of Erang Part-1, Dhoreghari, Senapati district, presently staying at Shantipur, Kanglatongbi, he said.
During a search conducted in his house and surrounding, two gunny bags suspected to be containing some illegal items were found inside an EECO van (without registration plate) which was found parked in front of the house, Meghachandra said.
On questioning about the content of the gunny bags, Sandeep told the police team that they contained some food items like rice, dal and vegetales, said Imphal West SP.
Suspicious about the contains inside the gunny bags, the team opened the gunny bags and found 22 black packets of suspected opium weighing about 84.45 kilogram. On examination, he admitted that he is a drug dealer. He further disclosed that the seized opium was given to him by one Premjit at Sekmai bazar on Friday afternoon and bought the same to his house by using his EECO van, the SP said.
Sandeep also disclosed that he went to bazar area and collected a sum of Rs 19.85 lakh on the same day from one unidentified person as instructed by one Karan of Guwahati, said Meghachandra. He said Sandeep disclosed the police team that he had earlier transported opium five times before.
The arrested person along with the seizures has been handed over to Sekmai police station for further action, the SP said.
Meghachandra said with the public support, Manipur police has been able to seize huge amount of anti-social elements. In order to root out drugs and in support of 'war on drugs', he appealed to the public to inform the police to avoid smuggling and using of drugs.
First Published:
April 3, 2021, 3:01 p.m.