Chingjaroi all set to celebrate Khamor Angkhui cultural festival
Chingjaroi is home to three sister villages, namely Chingjaroi Khullen, Chingjaroi Khunou and Chingjaroi CV, having around 1,200 households. I
---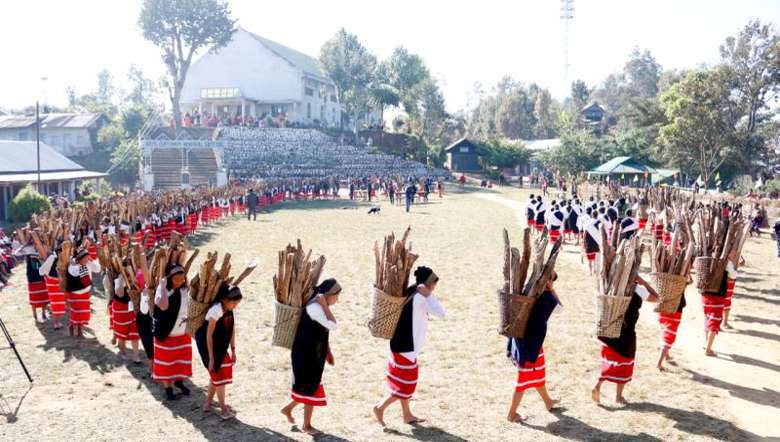 (PHOTO: IFP)
---
Settled across the foothills of the revered Matha peak in north of Ukhrul district, the native dwellers of the land are gearing up to celebrate their revered Khamor Angkhui cultural festival. 
Chingjaroi is home to three sister villages, namely Chingjaroi Khullen, Chingjaroi Khunou and Chingjaroi CV, having around 1,200 households. It is also one of the largest villages among the Tangkhul community. 
The inaugural programme of the five-day long cultural events is scheduled to be held on April 13. Retired civil servant Ningam Chamroy; former deputy speaker, Manipur Legislative Assembly MK Preshaw Shimray; and sitting MLA of Chingai assembly constituency Khashim Vashum will be the inaugural chief guests of Chingjaroi Khullen, Chingjaroi Khunou and Chingjaroi CV respectively. 
Chingjaroi has plethora of eye catching scenic spots to offer for adventure lovers including the fame Chingjui peak, Akharo, Japan Kafalokatiu, waterfalls, lovers point and many others while offering them a picture perfect view of scenic poumai region, and a glance of Neighboring Nagaland's mount Saramati and few villages under Pheh district. 
The significance of the festival goes much deeper than its surface meaning. The festival reminds the people that it is not only a time to indulge in merry making and feasting, but it is also a time to celebrate and preserve the rich cultural ethos passed down by the forefathers while strengthening the bond of friendship and unity. 
The occasion also offers the native to have the best of everything that they could have while having the near perfect relaxation. It is also a time to seek God's blessing. 
Interestingly, in the lingua franca of the Tangkhul people, the language spoken by the people, there are no similarities found with the common tribal language. The word "Tara kachon" which is the term for "waterproof" in Tangkhul is borrowed from Chingjaroi dialect. 
First Published:
April 3, 2021, 12:58 a.m.