Local clubs protest against mysterious death of Dhiribi
Autopsy of the body was conducted at RIMS morgue on Thursday and it is still kept at the morgue.
---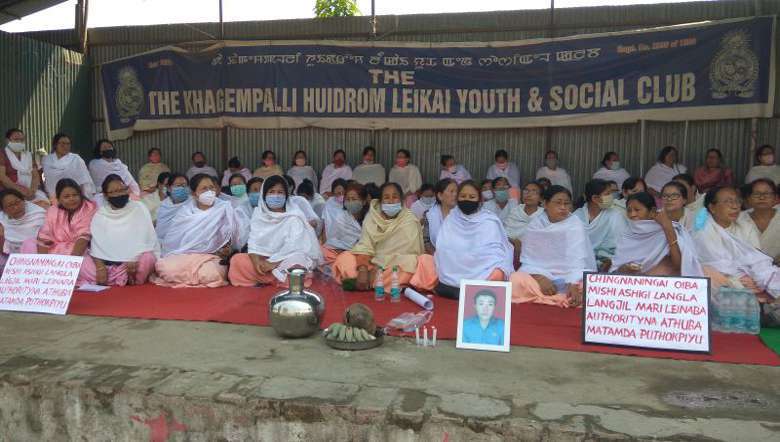 (PHOTO: IFP)
---
Meira paibis and local clubs staged a sit-in-protest at the community hall of Khagempalli Huidrom Leikai, Imphal West on Friday, decrying the death of one Huidrom Imo alias Dhiribi, 41, son of late H Mobi of Khagempalli Huidrom Leikai, Imphal West.
Speaking to media, younger sister of the deceased, Huidrom Ningol Nilima said Dhiribi along with his mother went to a marriage ceremony at Samurou Awang Leikai in the morning on Wednesday to give Potyeng (cash given as gifts) for the marriage of LG Motor Finance proprietor Salam Ibohanbi's younger brother.
Later in the evening of the same day, Dhiribi went to the marriage ceremony again to attend the celebration for the groom's party. As the head office of LG Motor Finance is located adjacent to the residence of Dhribi, the proprietor and family of Dhiribi had a close relationship, she added.
She further said his brother did not return home that day and on the next morning, Wangoi police informed her family members that Dhiribi's body is kept at RIMS morgue.
She was told that the body was recovered at Samurou Naorem Lamkhai, Imphal West which is located some distance away from the residence of Ibohanbi. She was told by the police that no damages were found on the two wheeler which the deceased had taken on that day. She said the face of the deceased was found damaged and one of his arms seemed to have broken. The deceased had aadhaar card, PAN card and other identification cards; however, his cell phone was not with him.
Nilima further said since the date of incident, no one from the side of Ibohanbi came to see the bereaved family.
Since it remains unclear whether she died of accident or murdered, she appealed to the chief minister N Biren and other authorities concerned to find out how his brother died.  
The family member will not collect the body and if the state government and authority concerned fails to find out the cause of death within three days, then intensified agitations will be launched, she cautioned.
Autopsy of the body has been conducted at RIMS morgue on Thursday and it is still kept at the morgue.
A case has been registered at Wangoi police station for further investigations.
First Published:
April 2, 2021, 11:38 p.m.