Manipur's film heritage preservation finally comes in focus, some already lost
As much of Manipur's film heritage has been lost, efforts are underway to digitise and restore Manipur's historic films for archiving purposes.
---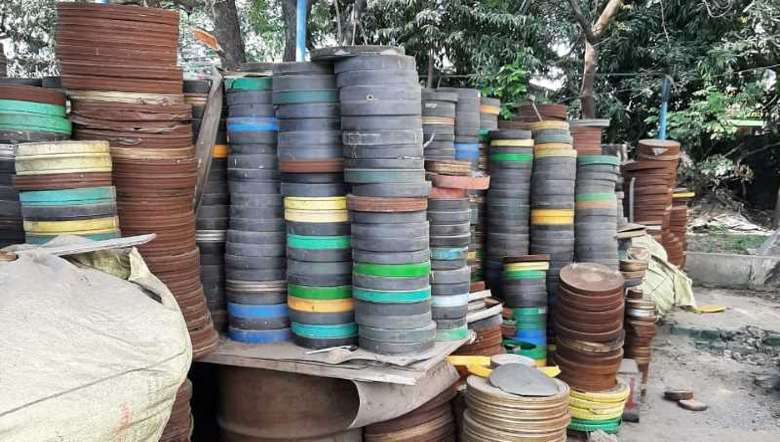 Around 2010, film cans with reels no more in vault rooms but kept outside (PHOTO: IFP Image)
---
In what could be music to the ears of the state film enthusiasts, the much-needed digitisation and restoration of Manipur's historic films for archiving purposes are finally underway. The Manipur State Film Development Society (MSFDS) has now set its eye on taking Manipuri cinema to the next level.
Much of Manipur's film heritage has been lost. Further delay in the preservation of Manipur's film heritage and archiving works would confine the first Manipuri feature film directed by a Manipuri to its historical status with the younger generations having hardly any access to the film.
It was in April, 1972 that 'Matamgi Manipur' directed by Debkumar Bose became the first Manipuri feature film to make it to the silver screen. 'Brojendrogee Luhongba', the first Manipuri film directed by a Manipuri, Sapam Nodiachand popularly known as SN Chand, was released a few months later the same year.
Almost 50 years down the line, the MSFDS recently sent the available positive prints of 'Brojendrogee Luhongba' and the first attempted feature shot in Hindi 'Mainu Pemcha' to Prashad Lab in Chennai for digitisation and restoration.
The setting up of Manipuri film archives was already proposed and decided in 2015. However, no significant follow up action was taken until recently.
Speaking exclusively to the Imphal Free Press in this regard, MSFDS secretary Sunzu Bachaspatimayum stated, "When I took over the charge as the MSFDS secretary, I realised the pressing need to act fast lest we lose our film heritage completely. In fact, we are a little late and we are worried if we will be able to digitise and restore the prints of the first full length colour feature 'Langlen Thadoi' as they are already in bad shape."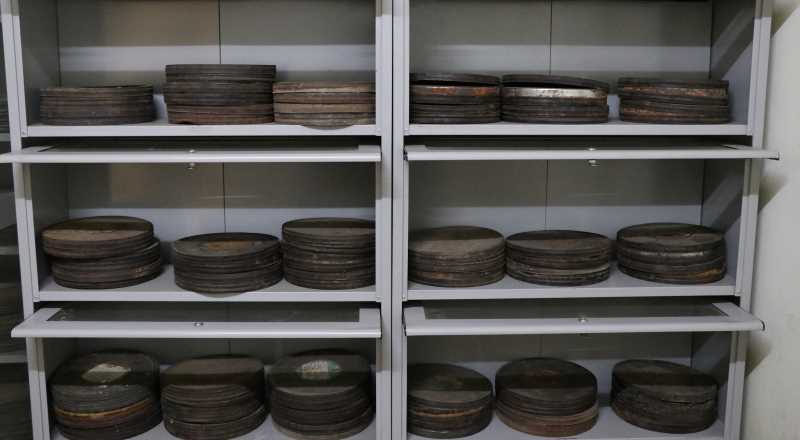 Reels being kept in tin cans (Photo: IFP Image)
Sunzu said that the society is able to acquire altogether 22 cans for 'Brojendrogee Luhongba', 11 cans each for the two released prints, through donors. The film originally had 12 reels and one for each print is missing, he stated. For 'Mainu Pemcha', only about two reels were retrieved though it is said that around nine reels existed.
Around 2010, all the labs for developing film in major cities were shutting down their services with the coming of digital technology. Eventually, the state's producers were told to receive the negative prints that were in safe custody of the labs. The producers, however, were unable to pay the fees of the labs then. While the MSFDS also failed to intervene, Manipur lost the negative prints of its historic films.
Nevertheless, the MSFDS secretary maintained that the society is now prioritising preservation of Manipur's film heritage despite the process being an uphill task considering the inadequate staff and financial constraints.
"We are yet to collect many out of the 67 celluloid feature films. We are short on staff and help from volunteers who share the same interest of preserving Manipur's film heritage is making this possible. We are hoping to complete a full-fledged film archive by 2022," he added.
As the prints need to be rewinded and cleaned regularly, Sunzu said that one of the major challenges that hindered the archiving process is the lack of devices like rewinding tables. He added that Film Heritage Foundation, an NGO dedicated to film heritage preservation, is donating two of such tables to MSFDS and will also be giving training on film archiving.
Interestingly, Manipuri cinema will be turning 50 next year and a year-long golden jubilee celebration has been scheduled to begin from April 9 with the observation of 'Mami Numit', Birth of Manipuri Cinema. 
The MSFDS secretary, while stressing on the need for the state's film makers to adopt standardised digital cinema technology for expanding the market of Manipuri cinema, said that Manipur Film Promotion Fund, a scheme to incubate and nurture stories and storytellers through skill enhancing by mentoring and giving grants will soon be introduced.
Besides, inauguration of vault room and lab room for the archives, unveiling of the 'Monolith of Manipuri Cinema' followed by floral tributes to departed film personalities, distribution of Manipur State Film Awards, honouring of prominent film personalities, workshops, screenings of films from Northeast and Manipur, film screening and sensitisation in every districts, launching of competitive Imphal International Film Festival will be the major highlights of the year-long celebration, he added.
ALSO READ
First Published:
April 2, 2021, 9:06 p.m.