Our own home-grown MIB
IFP Editorial: Narengbam Samarjit Singh must have had some powerful politicians or powerful people with black money in his pocket, without which he would not have been able to weave such a massive fraud.
---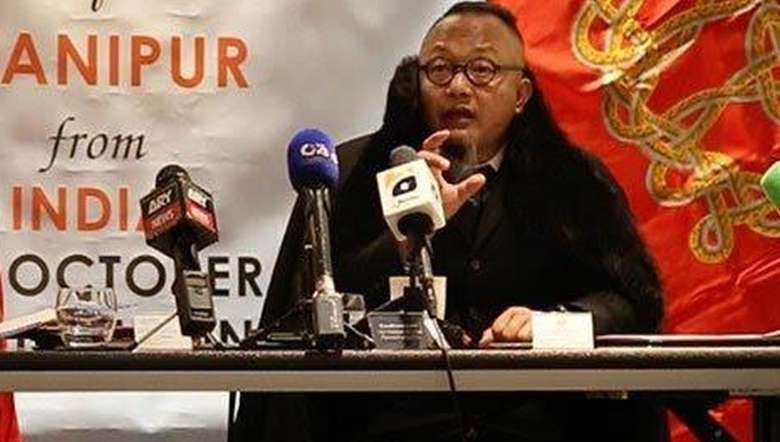 Narengbam Samarjit Singh (PHOTO: Facebook)
---
He once offered to bail out the state government of the financial deficit and overdraft. He created a financial empire through the Ponzi scheme and established a host of companies stretching far and wide. He even had a political party in his pocket. He is none other than our own home-grown MIB Narengbam Samarjit, the man who dresses in specially tailored black suits of his design. But, he is unlike other Ponzi scheme operators who goes into hiding. He turns up one fine day in 2019 October and declares the independence of Manipur and the formation of a Manipur 'government in exile' at a press conference in London and again land in Delhi airport last week.
A case was registered against Narengbam Samarjit Singh and Yambem Biren at Lamphel Police Station in Manipur's Imphal West district. Samarjit was the chief of Salai Holdings, a parent company of several companies including Smart companies. The duo was booked under Section 121 of the IPC. The company offices were raided and sealed by state police and subsequently by the National Investigative Agency (NIA) while the accounts of the companies were freezed. And thousands of 'investors' who were lured with 3 per cent monthly interest were left asunder.
As to what transpired before he decided to leave London and land at Delhi airport to the arms of NIA might never be known. But, the sheer audacity of his family members and supporters who shouted slogans in support of N Samarjit at the Imphal airport leaves everyone in shock. It was in bad taste.
The investors were angry and devastated. For all the aura created around him, he is nothing but a confidence trickster posing as a patriot or a hero so as to befool the general public. Well, it is good that the police had arrested his family members and relatives posing as his supporters in the airport drama when he was brought back to Imphal. When the news of his declaring Manipur's independence from London first broke, his family and board of directors quickly disowned him even to the extent of removing him from the directorship of the holding company. But as NIA continues its investigation, the grand deceit of his family and followers are coming out in the open. There were so many 'investors' from those with chunks of retirement benefits and not so legitimate persons with black money. These people might not pose problems for them, but it is great headache for those small investors with hard earned money and savings who are out to eke out a respectable income from the high interest rates to pay for education of their children and other domestic expenditures. Meanwhile, the state is painting these small time investors as gullible people and the state simply refuses to come to their aid while in a denial mode as to why the state let these private banks function and collect deposits and investments.
While it is necessary find ways and means to disburse the investment of the small time investors, it is also equally necessary to unearth the names of the big investors in Salai Holdings by going deep into the account books. What made it possible for N Samarjit and his cohorts to move among the powers that be, in his heydays? He must have had some powerful politicians or powerful people with black money in his pocket, without which he would not have been able to weave such a massive fraud.
ALSO READ: 
First Published:
April 2, 2021, 12:38 a.m.