Holi and Babulal Sau
If they are "Uneducated", I pray to the Almighty to make us all as "uneducated" as this Sau couple!
---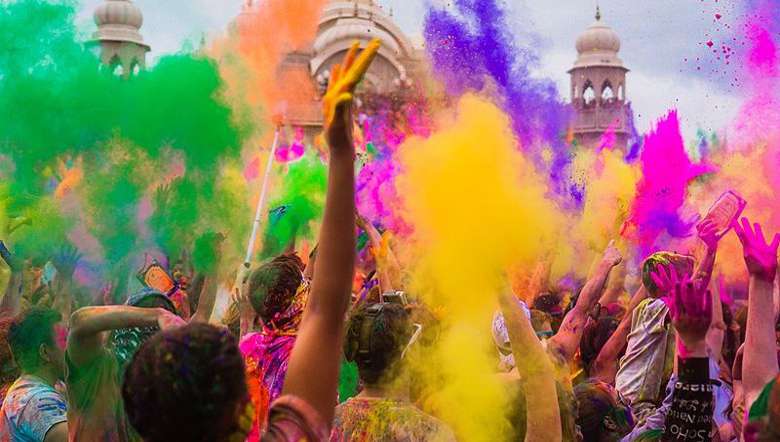 Babulal Sau. A 60-something person of Bihar origin. In our college hostel, only lunch and dinner were served. No provision for breakfast. So we had to frequent the small eateries nearby for breakfast and snacks. A group including myself used to frequent Babulal Sau's tiny shop whom we lovingly call Babuda. It was rather an apology of a shop. It was merely a small shanty. In the outer portion,  arrangements were done for tea bread eggs with few jars of biscuit and cakes. And in the inner portion, Babuda used to live with his wife and two little daughters.
Babuda was a very simple jovial innocent man. We, the regular hostel boarders, used to pay our monthly bill in the first week of the new month. So a ledger used to be maintained. After having our breakfast or snacks, we used to jot down the payable amount in the respective column against our name. Never did Babuda verify the ledger whether we are writing our due amount everyday or the amount being written is correct/reduced! Obviously bad apples exist everywhere. So 1 or 2 boys used to adopt corrupt means. Perhaps highly intelligent Babuda used to know about it, still he would not challenge them! Perhaps it was beyond his dignity!
Babuda's wife was also a smiling simple hard-working woman making tea or bread toast in front of a hot earthen oven! Stark poor they were. Just maintaining a sustenance somehow within that tiny shanty.  Yet such financial adversities and poor living conditions could not rob smiles and joy from the faces of the whole family!
An examination was approaching. So a group  planned to study almost throughout the night. So to avoid sleep, tea is required. So few of us requested Babuda whether he could supply hot tea around midnight. Babuda expressed his inability as he goes to sleep around 10 pm. But around that cold midnight, a knock got heard outside the window of our ground floor room where we assembled for studying. On opening, saw Babuda handing us a large kettle of tea by covering almost his full body to drive out the severe cold! Such was his warmth of heart for us!
It was our first Holi after admission in the college. In the evening, as usual we went to his shop. Before we place our order, the couple forwards plates of bread and chicken to all of us! Humbly they declared that this was Holi special! Since we don't know the rate of it, we asked it so that the payable amount can be written in the ledger. The poor couple laughed at our question and declared that it is their personal offering to us on the holy occasion of Holi! The highly  moved and surprised us perhaps couldn't utter anything by witnessing their generosity and warmth!
However, more surprises are in store! As our other hostel companions (who were rare visitors to the shop or never stepped in it) knew about it; from the next year, many of them were seen to be shamelessly frequenting the shop in Holi evening  in the greed of "free chicken"! But our Babuda is Babuda! With utmost sincerity, he used to offer special Holi delicacy at free to these rare visitors also with a big smile despite knowing very well the intention of their visit! If they are "Uneducated", I pray to the Almighty to make us all as "uneducated" as this Sau couple!  At least this society and world would survive.
I don't know whether physically Babuda is still among us or has left for his heavenly abode. But definitely do I know that till the last Holi of my life, the divine face of Babulal Sau will automatically crop up in my consciousness as soon as the festival of colours dawn in. We just can't forget our very own Babuda. 
First Published:
March 28, 2021, 6:18 p.m.