Newly elected Manipur Students' Federation members take oath
All together 48 individuals took oath as office bearers and executive council members of MSF.
---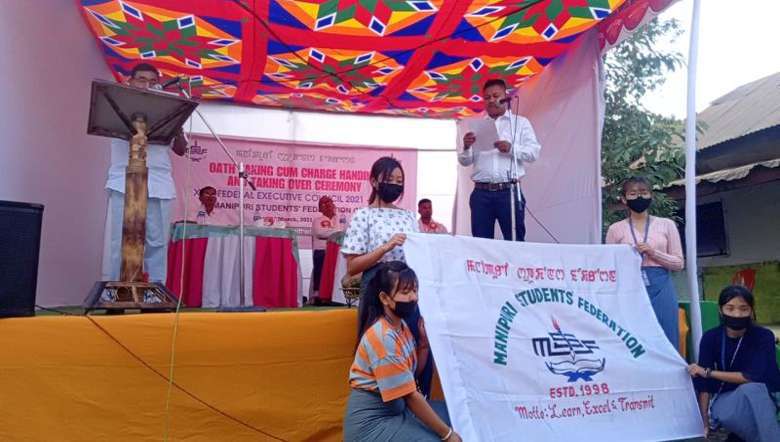 (PHOTO: IFP)
---
Newly elected members of the 18th Federal Executive Council of Manipur Students' Federation (MSF) 2021-22 took oath on Friday at its head office at Kwakeithel, Imphal
The 'Oath Taking cum Charge Handling and Taking Over Ceremony' was administered by chairman of Committee on Human Rights (CoHR), Manipur Phulindro Konsam. All together 48 individuals took oath as office bearers and executive council members of MSF.
Khangembam Bidyasagar, Maibam Julesh and Hijam Roshan Singh took oath as the president, vice-president and general secretary of the student's federation respectively.
Bidyasagar, while speaking to the media on the sideline of the function said it has been widely observed that most of the age groups suffer from mental stress and trauma in this post-COVID scenario.
Considering the above facts, MSF have planned to take up a mass awareness programme on mental hygiene as an action plan for the academic year 2021-22, he said.  
The new president further stated that many private school students from financial backward classes are in the condition of dropping their schooling due to a big effect in the income generation of their family during this post-COVID stage.
In this regard, MSF will be taking up a strategy plan to uplift the level of government school to the level of the private school so that those students belonging to financially backward families continue their education in government schools, which are at the same level with private schools, added Bidyasagar.   
MSF will also take necessary action against those who violate the rights of the people and steps to organise sports, arts and cultural events in the aim to make a drug free state, he added.
On behalf of the new officer bearers and executive members, Bidyasagar appealed to the public to  support the works taken up by MSF for the welfare of the society.  
The function was attended by advisor and chairman, Election committee of MSF Ng Milan; advisor and observer, Election Committee of MSF Kh Serajuddin; advisor and returning officer Election Committee of MSF Oinam Ashinikumar and former president of MSF Sazad Bhuiyamayum as presidium members.
First Published:
March 26, 2021, 7:02 p.m.