S Jalenmoul village in Kangpokpi inaugurated
S Jalenmoul village in Kangpokpi district was recognised and published in the Manipur Gazette on March 10, 2008.
---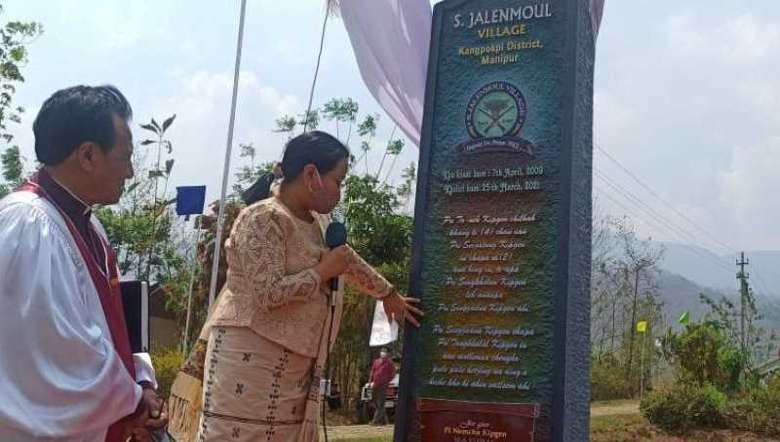 (Photo: IFP)
---
MLA of Kangpokpi assembly constituency, Nemcha Kipgen formally inaugurated S Jalenmoul village under Kangpokpi sub-division in Sadar Hills, Kangpokpi district on Thursday after publication of the village recognition in official Gazette on March 10, 2008.
The inaugural ceremony of the village was attended by Nemcha Kipgen as chief guest while president of Thadou Baptist Association India, Rev Vumthang Sitlhou and chief of T Lhanghoi, Seikhosat Kipgen attended as minister and functional president respectively.
A monolith erected as marked of the village inauguration was unveiled by Nemcha in the presence of other dignitaries and it was dedicated by Rev Vumthang.
Addressing the gathering, the local MLA said that "God gives plenty of beautiful land to us in this beautiful state of Manipur that even European countries and others live to visit frequently but we are yet to realise its essence and beauty as we continue to destruct our beautiful land with various menacing cultivation."
She continued that "it is time we realise the importance of our land and stop the practice of cultivating illegal plants and skip to more encouraging cultivation. The resource we gain by such illegal cultivation might be very tempting but it will not only destroy our land but our future generations."
Rev Vumthang said that wealth, wisdom, fame and popularity will one day go along with the time and of all these things, living life according to the will of God is the most important factor to live peacefully on this planet.
S Jalenmoul village has been recognised under Gazette No.484 after fulfilling the conditions laid down under Section 3 of the Manipur (Village Authorities in Hill Areas) Act, 1956.
The village chief is Tonglal Kipgen, son of L Singjadou Kipgen. Prominent Gospel artistes such as Wycliff Lunneo Kipgen, Neicy Haokip, Chongpi Kipgen enthralled the crowd with their melodious voice during the occasion.
Apart from various CVOs in the district, Kuki Chief Council and villages chief of the area also attended the inaugural ceremony of S Jalenmoul village.
First Published:
March 26, 2021, 11:03 a.m.