Sanitary pad vending machines installed in six government schools of Manipur
The Rotary Club Manipur plans to install more sanitary pad vending machines at remote areas of Manipur.
---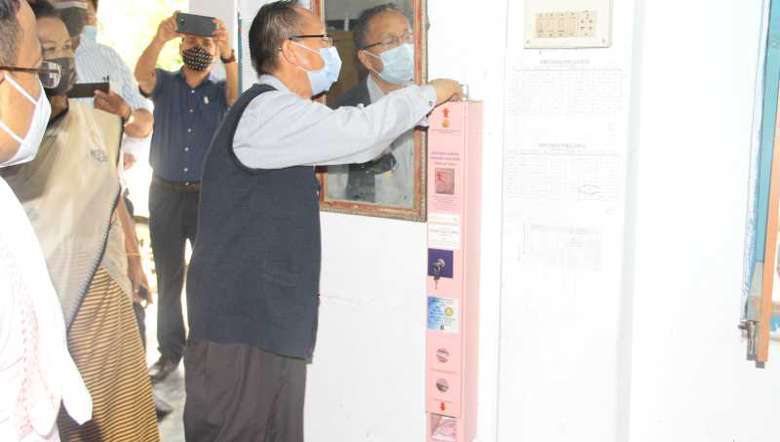 New sanitary pad vending machine installed in a school in Manipur
---
The Rotary Club of Imphal inaugurated 'sanitary pad vending machines' at six government schools on Wednesday in an effort towards promoting better menstrual health for school going girls.
The programme was initiated in consideration of the menstrual health of adolescent school girls, said president of Rotary Club of Imphal, Ch Dhananjoy Singh during the main function organised for the inaugural of the sanitary pad vending machine at Ibotonsana Girls' Higher Secondary School. The aim and objectives for installing the sanitary vending machine is to bring a healthy society, he said.
The vending machines are very much needed in rural and hilly areas for students, and therefore, the club will install similar sanitary pad vending machines at remote areas of Manipur.
Dhanjoy further said a person can get the sanitary pad from the vending machine by inserting a sum of Rs 5 (golden colour) in the machine. Rotary Club of Imphal will take care for the management of sanitary pads at the time of need.
Taking such initiatives is necessary for the school going girls, said director, department of education (s), Laishram Nandakumar Singh. He expressed his gratitude towards Rotary Club of Imphal for the contribution.
Secretary, Rotary Club of Imphal Prem Pebam also took part in the inaugural function as a dais member.
The sanitary pad vending machine was inaugurated at Ibotonsana Girls' Higher Secondary School, Uripok Kangchup Road, Imphal West; Tamphasana Girls' Higher Secondary School, Old Lambulane, Imphal West; Lilasing Khongnangkhong High School, Thangmeiband, Imphal West; Ananda Singh Higher Secondary Academy, Nongmeibung, Imphal East and Wangkhei High School, Wangkhei Keithel Ashangbi, Imphal East.
Meanwhile, a programme on awareness of washing hands 'WinS (Wash-in-School)' was organised at Keishamthong High School. Rotary Club of Imphal demonstrated proper ways of washing hands to the school students and how to maintain health hygiene as a part of the programme.
First Published:
March 25, 2021, 10:48 a.m.