How long must the people wait in line for drinking water in Tamenglong?
People, including children, stood in long queues every morning and evening to get a bucket or pot of water from the sources available.
---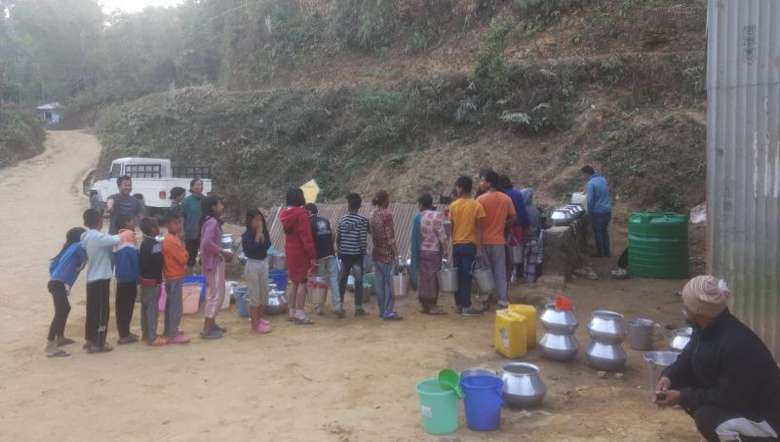 (PHOTO: IFP)
---
How waters in the ponds and streams have dried up and how difficult it is to fetch water at night have become common talking points or complaints in the town area of hilly district Tamenglong in Manipur which is reeling under acute shortage of potable water for the past dry months. The region has been facing acute shortage of water, leave alone drinking water, due to the drying up of all water sources such as ponds, rivers, wells and streams during the dry months.
People, including children, stand in long queues every morning and evening to get a bucket or pot of water from the sources available. Some head for the wells, water tanks and ponds, even late into the night or before the dawn of the day to fetch some water.
The water flow in even the Barak River, the biggest river in not only in Tamenglong but also in the state has decreased. Irang and Ijeirong rivers are facing the same fate while adjoining rivers and nearby streams are drying up fast.
During a survey by the Imphal Free Press on water scarcity in the town area, it was learnt that people at Guigailong Tamenglong Ward No. II, where PHED water supply is yet to reach, the residents struggle to fetch drinking water from the only well which is kept locked most of the time. The well is opened only in the morning and evening, and each household can draw only buckets of water from the well.
The well at Chingkhiulong Ward No V is open the whole day, but owing to the huge number of people from far and near coming to fetch water from it, the queue is long and the wait for one's turn could go on for hours.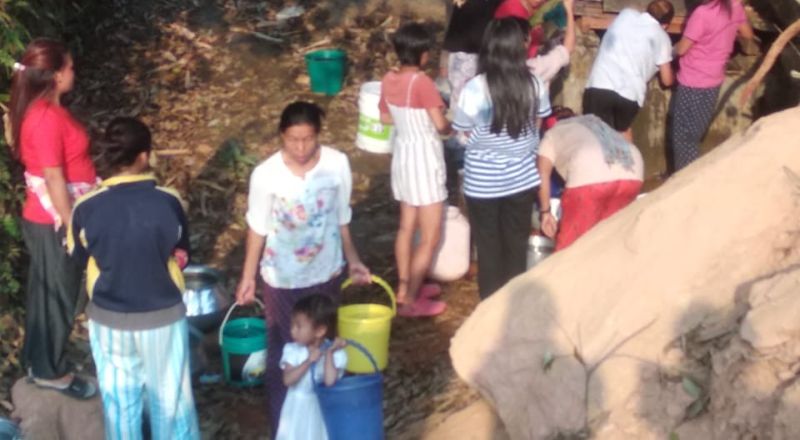 (PHOTO: IFP)
Similar is the scene at Greenland Tamenglong Ward No II Part V which does not have a PHED water facility. People have to stand in a long queue to get a pail of water. People start coming even before the dawn of the day to avoid the long queue. 
"Once the water project is completed, the water problem will be solved to some extent," said executive engineer, Tamenglong PHED, Gaijinlung Thaimei, speaking exclusively to the Imphal Free Press.
"One dam has been inaugurated and is in the process of supplying water; another dam is under construction and about to be completed, while the third one is at present a water supply site," he added, urging the citizens of Tamenglong to use water judiciously and not waste it.
Tamenglong district is a rainforest region and receives high rainfall every year, yet it faces acute water shortage during the lean season. 
Major issues and solution 
Most of the rain water flows away due to lack of rain water harvesting structures and denudation of forest area, Thaimei explained.
The water availability in Manipur depends solely on rainfall as all its river basins have their catchment areas within the state. No water flows in the state from the neighbouring states like Nagaland or Assam to Manipur, he said.
Thaimei further pointed out that the need of the hour is to preserve and conserve national water sources and harvest rain for sustainable use.
Preservation of water sources which includes natural preservation, stopping deforestation, pollution control measures, artificial construction of water reservoirs or dams to harvest rain water and groundwater is imperative, he added.
Thaimei also stated that to protect the forest and save water, jhum cultivation could be replaced by terrace cultivation, or alternative arrangement made for jhum cultivators. There is also a lack of awareness on water preservation, he said.
Meanwhile, the sustainability of the existing water supply system is affected by deforestation, uncontrolled fragmentation and proliferation (increase) of villages and lack of land use policy in hills, quality of water, due presence of chemicals, old aged pipes and structures, and unauthorised tapping from pipelines along with water tax collection with flat rate not using water meter, Thaimei pointed out.  
It may be noted here that the department cannot supply enough water to even tax paying consumers since the amount collected is hardly enough for management of the supply system. Public participation in this regard will help the department concerned while also granting maximum benefits to the general public, Thaimei added.
Public participation can bring about great change. While the authorities concerned must carry out their responsibilities well, the public also should do their duty to save water before it's too late.
ALSO READ: 
First Published:
March 24, 2021, 11 p.m.