Cyclone CC lifts 5th MNCA Elite Tournament Champion title, PTRC Patsoi settle for Runners Up
Cyclone CC Thangmeiband walked away with Rs 2 lakh along with trophy and certificates as winning prize money.
---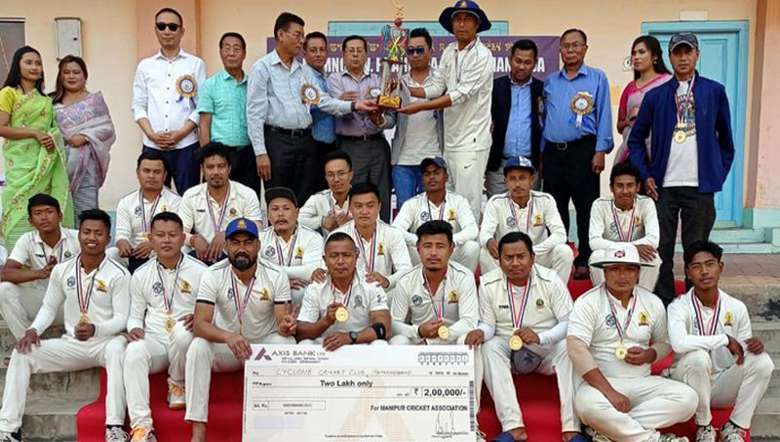 (PHOTO: IFP)
---
Cyclone CC Thangmeiband sweeps down with 6 wickets victory over PTRC Patsoi to lift the champion title of the 5th MNCA W Prahlada and W Ramananda Elite Tournament 2021, played at Luwangpokpa Cricket Ground, Luwangsangbam.
In a low scoring final match, PTRC Patsoi after winning the toss opted to bat first where they managed to put up 154 runs for 10 wickets from 37 overs (limited 40 overs match).
PTRC Patsoi opener Kh Santosh and wicketkeeper Ng Jameson tried to build up their innings hitting 40 runs and 20 runs respectively but the once they are out, the middle order failed to ignite and rotate the strike resulting to the low score. Ng Jonhson made 20 runs, Ph Jotin got 21 runs and skipper RK Rex chipped in with 15 runs. Ch Bidash remained not out with 15 runs.
Cyclone bowler L Kishan was the most successful one claiming 3 wickets for 31 runs from 8 overs while N Suraj, K Homendro bagged 2 wickets each, L Bikash and L Roshan fetched 1 wicket each.
Chasing the target, Cyclone opener Narsingh Yadav gave a good start hitting 40 runs from 47 balls while L Ronald made 23 runs and Th Akshaykumar got 17 runs to reach the target in 36.3 over for 4 wickets. L Kishan with 33 runs and L Bikash with 18 runs remained not out for the title victory.
PTRC Patsoi skipper RK Rex claimed 2 wickets while L Kiran and Kenjit got 1 wicket each. Cyclone bowler L Kishan was declared the Man of the Match for his 3 wickets haul and 33 runs knock.
The Man of the Series was claimed by Ph Jotin of PTRC Patsoi for his 150 runs and 12 wickets haul from 7 innings with cash prize of Rs 15,000 while Narsingh Yadav of Cyclone CC took the Highest Run scorer for his 240 runs from 5 innings, Abdul Kasim of Force CC Khetrigao with Highest Wicket taker with 18 wickets from 6 innings with Rs 10,000 each. L Kishan of Cyclone CC with the Man of the final Match with Rs 5000.
Cyclone CC Thangmeiband walked away with Rs 2 lakh along with trophy and certificates as winning prize money while PTRC Patsoi had to content with runners up title with Rs 1 lakh along with trophy and certificates. Both losing semi-finalists Force CC Khetrigao and Champ Khagempalli were given Rs 50,000 each while match referees and scorer were also honoured on the occasion.
First Published:
March 24, 2021, 12:41 a.m.