Tangkhul relics get a home in Ukhrul's Sihai Khullen village through yearslong efforts of one man
Ringkahao, who is now hitting 71, told the Imphal Free Press that he started setting up the mini museum in 1994-95 as a memorial of days gone by.
---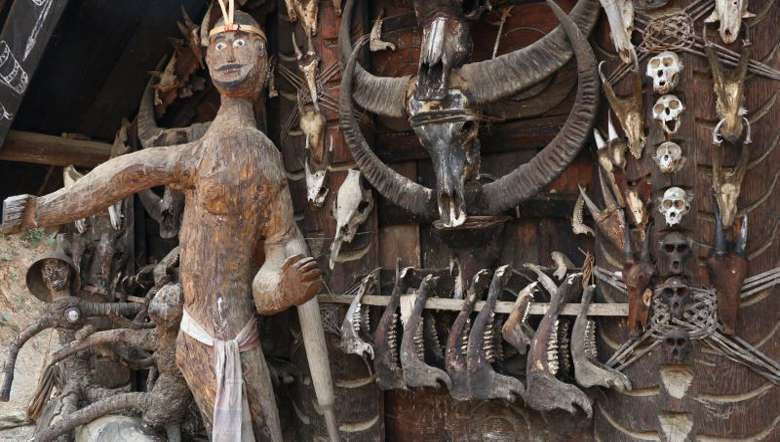 In Sihai Khullen, 25 km away from Ukhrul district headquarters, Tangkhul relics found a home when Ringkahao Khangrah decided to set up a mini museum more than 20 years ago at his residence.
The dedicated hut made of wood being set up as the trove is not big. It is only about 30x20 ft, but houses valuable items associated with the civilisation of the Tangkhuls, which Ringkahao has collected over the years.
The walls painted black and marred with dust that lends a vintage look, are being embellished with various objects, including culinary items, vessels, traditional musical instruments of the Tangkhuls and skulls of animals among others. 
Speaking to this Imphal Free Press reporter, Ringkahao, who is now hitting 71, said that he started setting up the mini museum in 1994-95 as a memorial of days gone by. 
"Few items were donated by generous people whose names I have recorded and others I have collected by myself. The space is small and is already full with over 100 items. But, there are still many things yet to be collected and preserved," he stated.
Talking about the relics, he said that they are different items that were once used by the Tangkhuls in agriculture, dance, combat, festivals and household activities.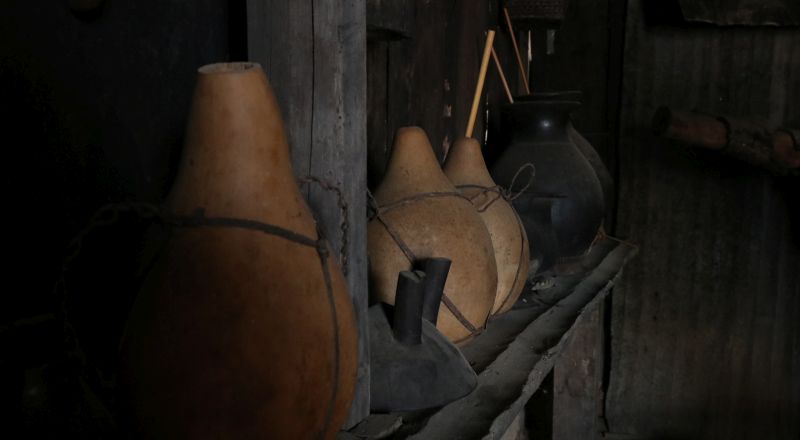 (PHOTO: IFP)
Different Tangkhul traditional attires for both men and women, axes and other combat weapons, including spear, bottle gourd vessels which were earlier used for drinking water and wine but now becoming ornaments, earthen pots, vessels to feed animals, device used in pounding rice, different ornaments, head gear, utensils of both wood and metals, traditional musical instruments like 'Tingteila' are being displayed in the museum. 
Skulls of animals mainly buffalo, monkey, wild boar, goat and deer among others are being arrayed in the exterior of the trove. He said that the skulls were collected and preserved to signify the old 'head hunting' tradition.  
One significant item that draws the attention of the visitors is the wooden sculpture that depicts a fierce Tangkhul warrior who had just taken the head of an enemy holding it in his hand. Another interesting item is the large wooden bed, which spreads more than 15 ft. Ringkahao said that the Tangkhuls used to sleep on such a large bed, at least 10 people together.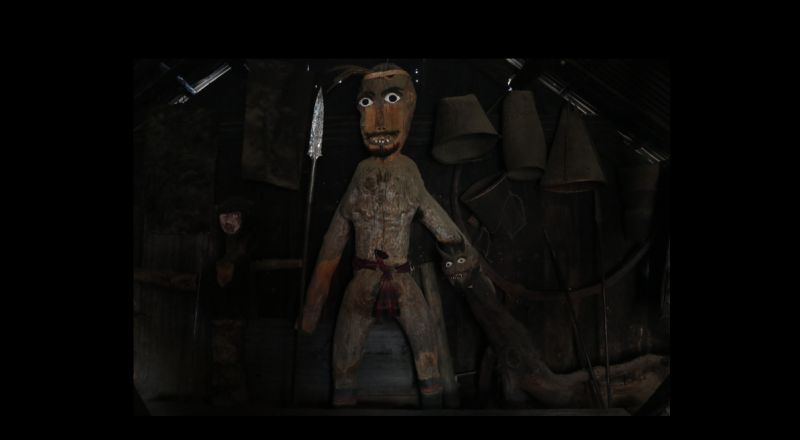 (PHOTO: IFP) 
Ringkahao maintained that he used to keep human skulls as well in the mini museum. "Some people protested saying that Christianity does not allow such beheading and the skulls were incinerated. However, I sometimes regret doing so," he added.  
While Ringkahao did not charge any entry fee from people, he said that he is able to maintain the museum with the little amount of money tourists and visitors gave him once in a while as a token of appreciation of his efforts. 
"I am still yet to collect a lot. Nevertheless, I will dedicate my life in preserving the relics and items associated with the Tangkhuls. I want to expand the museum but I am unable to because of financial constraints," said Ringkahao. 
Even though his trove is almost full, his heart still has space for the items yet to be collected. Perhaps, it is high time the government looked into the concern of Ringkahao, who, without any substantial support from others, developed a prized possession not only for himself but for the whole Tangkhul community and the state as a whole
First Published:
March 23, 2021, 10 p.m.