Thousands run against drug menace, to save lives at Heirok in Thoubal
The run, organised by the Heirok Athletic Union under the aegis of Athelitics Association of Manipur, was the first of its kind held to fight the menace of drugs in Manipur.
---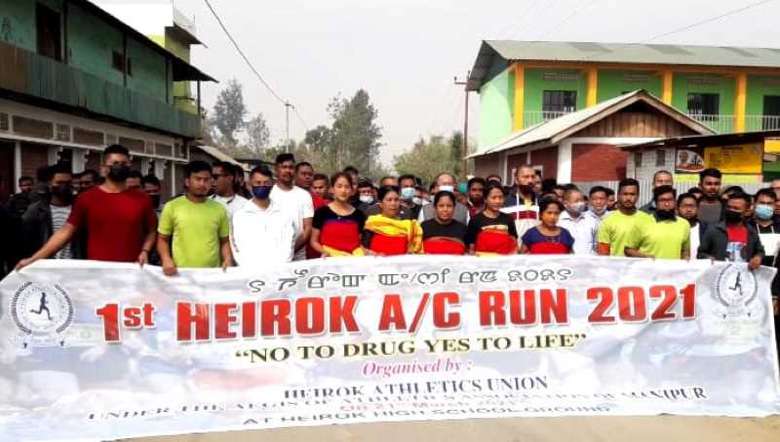 (Photo: IFP)
---
Thousands of people took part at the First Heirok AC Run 2021 which was held under the motto "No to Drugs Yes To Life" on Sunday at Heirok, Thoubal district.
The run, organised by the Heirok Athletic Union under the aegis of Athelitics Association of Manipur ,was conducted in two different categories.
The first one is " Run for Fun" category with the aim to spread awareness on drugs to the public and it covers only 8 kilometers. MLA Radheshyam flagged off the Run at Heirok part( i) Heitup-pokpi area near primary school and the MLA himself also took part in the run, leading thousands of enthusiasts runners.
SP Thoubal S Ibomcha, Assistant Director YAS Ch Tejkumar and other district-level YAS officials were among the frontline runners.
The Run for Fun passed through Heirok part (iii) area and concluded at Heirok High school ground located within Heirok part (ii).
The second category is a Mini Marathon covering 10 km and was participated by more than 300 athletes from different places of Heirok Assembly Constituency. It was also flagged off by MLA Radheshyam from the gate of Khongjom War Memorial Gate. Heirok High School ground was the culmination point for this category.
Later, a prize distribution function was held. Several eminent persons from Heirok, including Upa-Adakshya of Thoubal Jilla Parishad  T Nungshi, social worker Th Choujit, 4 ex-councillors of Heirok Nagar Panchayat and many others attended the event.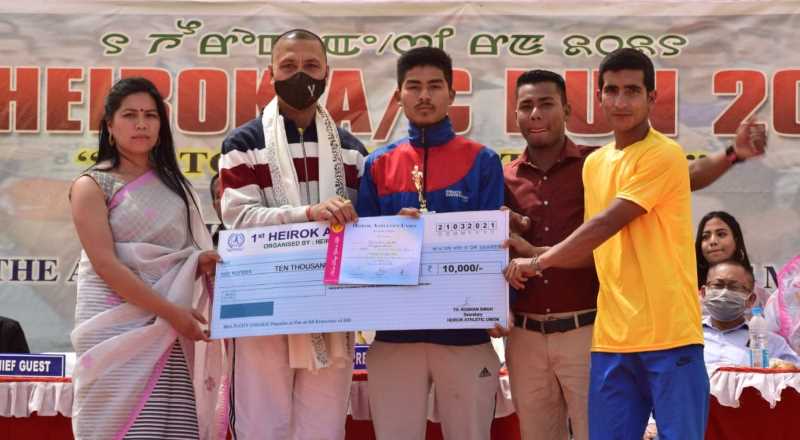 Speaking as the function chief guest, Radheshyam lauded HAU for organising such a Run at the right time. He also pointed out the menace of using drugs in the society. He appeals to the parents not to hide their son/sons if signs and symptoms of using drugs is found.
"It is not the time of coyness in hiding drug users in our families, parents should bring out their son openly so that he could be rescued from the jaws of drugs," the MLA said, adding that he was saddened when he learnt that parents were even found committing suicide when their child whom they brought up with high ambition was found using drugs. The MLA pleaded the public not to sell drugs at any cost and fight the menace of drugs.
Radheshyam accused the former representatives of Heirok Assembly Constituency for not lending any support on delivering government benefit schemes to the public. He said that the people of Heirok Assembly Constituency mostly belong to poor families and are economically backward. This was the result of long negligence by our former representatives, the MLA said.
"Heirok Assembly Constituency had once several high potential and bright students who could become high ranking officers, doctors, engineers, but due to lack of proper and timely guidance, several of our priceless youths who are assets of the constituency had been the victims of drugs now," the MLA lamented.
Saying, "We must  have sense of dedication in every field," he later distributed prizes to the winners as an encouragement of their spirit. For boys category, Y Sanathoi from Nongpok Sekmai got first position reaching the fininshing point within 44: 31: 09 minutes, while N Somorjit from Heirok part (i)  and L Rimash from Heirok part (iii) got second and third position within 47:34 minutes and 47:52 minutes respectively.
And for girls category, Khumanthem Anjana and Shaikhom Memchu from Heirok part (ii) stood first and second position while Ningthoujam Durga from Heirok part (i) got third position. The first position was handed over a cash prize of Rs 20,000 with trophy, second prize with Rs 15,000 with trophy and the third prize with Rs 10,000 with a trophy.
While for boys category, the first position was given a cash prize of Rs 10,000, second with Rs 7,000 and third with Rs 5,000 with a trophy each.
Officials of YAS also distributed sports items to the clubs of Heirok. 
The Heirok Atheletic Union was formed in 2015. The players of this union, who played under the coach Th Roshan from Heirok had participated at several state and national level championships and won several titles.
ALSO READ
First Published:
March 21, 2021, 5:51 p.m.