Hydroponic: An alternative sustainable farming practice
As hydroponic can help grow food in controlled environment using less resources and offering healthier yields, it is seen as a sustainable solution to food security.
---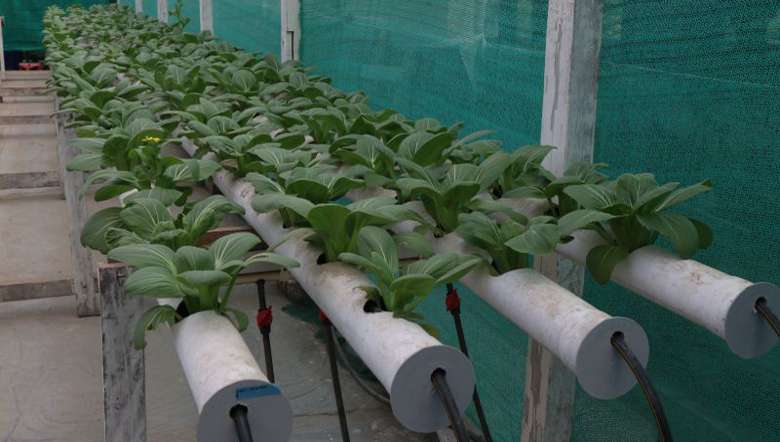 (PHOTO: IFP)
---
Every day, we have more people on planet Earth- and less topsoil, water and land with which to grow food, which leaves us with the question: how will we sustainably feed future human generations?
Modern industrialised agriculture produces a lot of foods, but it is also destroying the planet with its overreliance on pesticides and other agrochemicals, mechanization and mono-cropping. It is depleting our topsoil and aquifers, polluting our water and air and destabilizing our climate. Climate change could make it harder to grow food in the years ahead, with drought, floods and extreme weather threatening food security for billions of people around the globe.
So, are there options emerging that addresses this downside and might set up our food system for a more sustainable future? Yes, there are.
Proponents of regenerative agriculture, permaculture and other emerging sustainable food production methods points out that we can sequester carbon in the soil, create more nutrients-dense food, reduce or eliminate reliance on agrochemicals and create more nutrient-dense resilient and sustainable food systems.
These and other low-tech solutions work with the laws of nature and seek to enhance rather than exploit natural living systems. We know that plant require sunlight, oxygen, water and nutrients to grow. What about soil? Well, soil provides a hospitable place for a plant to anchor its roots and serves as a source of water and nutrient needed for its growth. But if these two purposes are met by other means plants would not need soil.
By offering higher yield and using fewer resources, hydroponics technology may be able to mitigate impending food shortages from climate related events such as flooding, drought and high temperatures, scientists say. But how?
Then, what is hydroponic farming?
Hydroponics is a type of horticulture and a sub-set of horticulture, which is a method of growing plants usually crops without soil by using mineral nutrients solutions in an aqueous solvent. Terrestrial plants may be grown with only their roots exposed to the nutrient liquids or in addition, the roots may be physically supported by an inert medium such as perlite, gravel or other substrate.
Despite inert media, roots can cause changes of rhizosphere pH and root exudates can affect rhizosphere biology. The nutrients used in hydroponic system can come from many different sources, including (but not limited) fish excrement, duck manure, purchased chemicals fertilizers or artificial nutrient solutions.
Plants commonly grown hydroponically on inert media includes tomatoes, peppers, cucumbers, strawberries, lettuces, and marijuana and model plants like Arabidopsis thaliana. Hydroponics offers many advantages, one of them being a decrease in water usage for agriculture. To grow 1 killogram of tomatoes, using intensive farming methods require 400 liters. With hydroponic, it requires only 70 liters of water and 20 liters in aero-ponics. Since it takes much less water to grow, it could be possible in the future for providers in harsh environments with little accessible water to grow their own food.
Many hydroponic gardens are sprouting across the world where crops and vegetables are produced in large quantities. The method is also catching up in urban areas in India, where households meet some of their vegetable needs this way.
Soilless cultivation of vegetables was known to human kind since the ancient times. However, the interest in the technology was renewed in the 19th and 20th centuries when scientists such as Julius Sachs and W.E Gerick studied the method extensively.
Among other inventions, scientists also optimized the nutrient solution that are added to water for hydroponic farming. They include macronutrient (needed in large amounts) such as carbon, phosphorus, hydrogen, nitrogen, oxygen, sulphur, potassium, magnesium and calcium as well as chlorine. The United Nations has estimated that the global human population will reach nearly 10 billion by 2050.
In 2019, about 124 million people were estimated to have faced acute food shortages from climate related events such as flooding, irregular rains, draught and high temperatures. With the rise in population and farmers struggling to cope with demand, there is a global push for sustainable fanning.
As hydroponic can help grow food in controlled environment using less resources and offering healthier yields, it is seen as a sustainable solution to food security.
Advantages of hydroponic farming are: faster growth; less space consumption; no need for soil; climate control; productive use of nutrients; improves growth rate; water saving; production in any season is possible; less use of insecticides.
Disadvantages of hydroponic farming are: require time and responsibility; technical knowledge and experience; risk of system failure; high cost in installation; disease spread; problems in water and electricity cut-off. Given the need for more sustainable agriculture, there has been a rise in eco-friendly start-up companies around the world that are using hydroponic technology to produce crops on large scale with a technique known as "vertical farming".
Vertical farms are buildings filled with countless levels of hydroponic systems, growing different crops in an indoor, controlled temperatures environment. The largest vertical farm is being built in Dubai, covering 130,000 sq. ft. of land, aiming to produce 6,000 pounds of food per day, using 1/2500th, the amount of water as an equivalent soil operation. For city that imports 85 per cent of their food, this will greatly revolutionize the way the city eats.
A report by the Associated Press estimates that food produced by hydroponic technology in 2019 is worth 32 billion USD and this is projected to grow at a rate of five per cent per year until 2025. While hydroponic technology may never replace conventional farming, it is breaking the paradigm of food production; we may see new generation of modern farms building green walls inside their houses or community centers to feed families fresh produce crops all year round.
Hydroponic farming in Manipur
In Manipur too, hydroponic farming with focus on sustainability is slowly gaining ground. One, Neeraj Yumnam, of Kongpal Kshetri Leikai, Porompat in Imphal East District, has successfully transformed the unused space of his rooftop into a thriving environment for exotic vegetables. Interestingly, the rows of green leafy vegetables that now spread across 1000sq.ft on his rooftop are not grown in soil but in water. The product of his farm is being sold online through social media and in a few restaurants.
However, as per report from the District Agriculture Officer (ATMA), Imphal West, though hydroponic has prospect, it is not yet popularized in the state of Manipur and no initiative is being taken up by the Government so far. But if substantial numbers of farmers who are serious and interested in this farming practice, there can be provision for organizing training and workshops according to the needs of farmers, the AO further said. In fact, this is an urgent need for the government of Manipur to initiate.
(The views expressed is personal)
First Published:
March 21, 2021, 1:28 p.m.