World Head Injury Awareness Month: Cycle rally in Imphal witnesses participation of over 70 health enthusiasts
A cycle rally was organised in Imphal to spread awareness on the growing prevalence rate of traumatic brain injuries.
---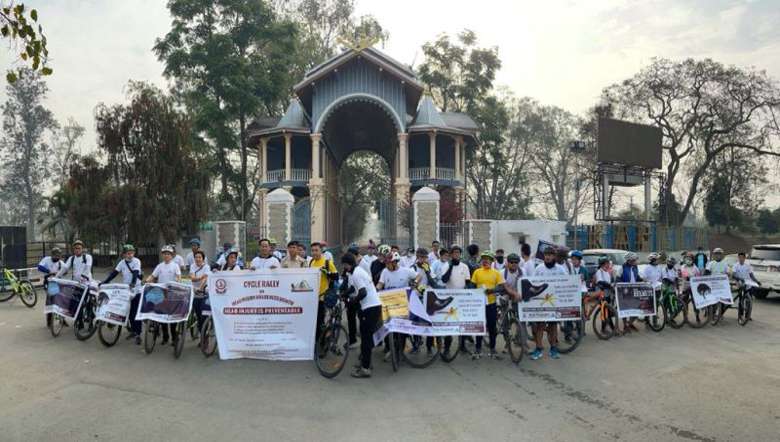 To observe the growing prevalence rate of traumatic brain injuries and spread awareness on the matter, Shija Hospitals And Research Institute and Manipur Adventure and Mountain Biking Association (MAAMBA) jointly organised a cycle rally from Western Kangla Gate to Shija Hospitals on Saturday.
A release stated that the flag off ceremony was attended by chairman and managing director (Shija Hospitals), Dr Kh Palin; director medical services (Shija Hospitals) Dr Jugindra S; consultant neurosurgeon (Shija Hospitals), Dr Chabungbam Gautam, and additional SP, Traffic Control Police Wing, Manipur, A Devananda.
The cycle rally, which was flagged off at 7 am from Western Kangla Gate, witnessed the participation of more than 70 health enthusiasts who carried different placards on head injury prevention measures. The route covered different key landmarks of the city and finally concluded at Shija Hospitals where the participants were welcomed with light refreshment and encouraged to share their experience, it said
Speaking on the occasion, Dr Palin and other dignitaries emphasised the importance of following the safety measures. The cycle rally was a great opportunity for the cyclists community, health enthusiasts and the experts to unite and spread awareness.
March is observed as World Head Injury Awareness Month, and every year, March 20 is dedicated towards enhancing awareness about head injuries, causes and seriousness of these injuries. Traumatic Brain injury is a leading cause of disability and mortality around the world, it added.
First Published:
March 20, 2021, 11:18 p.m.