Capacity building programme on drugs held at Tronglaobi in Bishnupur
The programme aimed to sensitise the local volunteers on the Narcotic Drugs and Psychotropic Substances Act 1985
---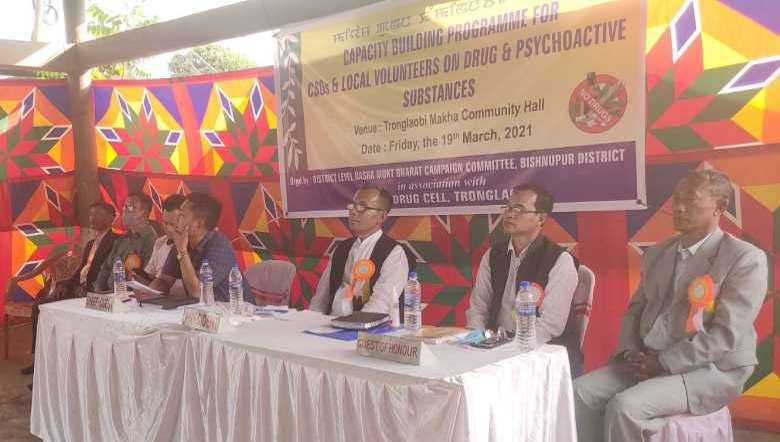 (Photo: IFP)
---
A one-day capacity building programme for civil bodies and volunteers on drugs and psychoactive substances were conducted at Tronglaobi area in Bishnupur district on Friday.
The programme aimed to sensitise the local volunteers on the Narcotic Drugs and Psychotropic Substances Act 1985 so that local volunteers and civil bodies could discharge their responsibilities while launching an anti-drug campaign without violating legal provisions and ethical norms. 
The anti-drug Cell Tronglaobi an active civil body which had referred around 400 users to different Rehabilitation Centres in the centre organised the event under Nasha Mukt Bharat Campaign Bishnupur District Committee.
The convener of Anti-Drug Cell Tronglaobi Ch Robin said that the cell was established in October last year and its ultimate aim is to address the most challenging  drug users' issues that ruined the society and victimized several youths. He said the cell never took money from any party user's family or rehab centers while conducting drives against the drug addicts.
The resource person S Shyamcharan advocate elaborated the provisions of NDPS Act. The chief functionary of Anouba Punsikon IRCA, Keisam Pradipkumar emphasized the need for close coordination of police, NGOs, Civil Bodies, and IRCA to tackle the drug menace properly. N Jotish DSWO Bishnupur district said that Bishnupur district will get two more state-run rehabilitation centers very soon.
First Published:
March 20, 2021, 10:47 a.m.