'Culprits involved in death of Sanaton must be booked'
Sanaton Athokpam, a medical student of Regional Institute of Medical Science (RIMS) was found hanging inside his hostel room in a suspicious manner on march 15.
---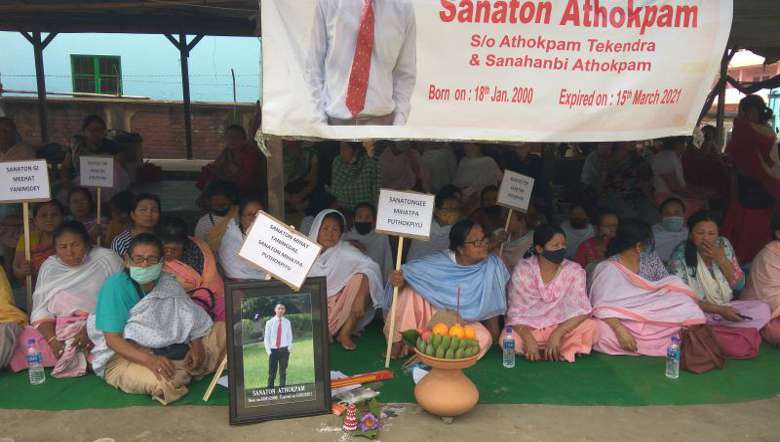 (PHOTO: IFP)
---
Lamlong Keithel Fambi Apunba Nupi Lup (women vendor organisation) staged a sit-in-protest at Lamlong, Imphal East on Friday, demanding  that the culprits involved in the alleged murder of Sanaton Athokpam must be booked.     .
Considering the circumstances surrounding the death, it is highly suspected that the RIMS medical student was murdered and did not commit suicide, president of the women's body Nongthombam Ibeton said while speaking to the media.
When the body was found, his both hands were found tied behind his back and there were no bloodstains on the floor; however, one of his toes were injured, she said.
Demanding for speedy justice, the agitation will continue till the culprits are booked, she added.
Meanwhile, a press statement issued by general secretary of Union of Social Upliftment (USU), RK Tondon mentioned that USU strongly condemned the death of Sanaton Athokpam. The body demanded that authorities concerned and RIMS authority should find out the culprits.
It stated that various incidents had occurred at the said hospital but most of them still remain unsolved. There are no signs of any proper investigation following Sanaton's death, it further stated while adding RIMS authority should bear all the responsibilities for the incident. 
ALSO READ: 
Sit-in-protest staged against death of RIMS medical student
First Published:
March 20, 2021, 12:43 a.m.