Public rally in support of 'War on Drugs' mission held
The rally was flagged off by BJP Manipur spokesperson Benjamin Mate.
---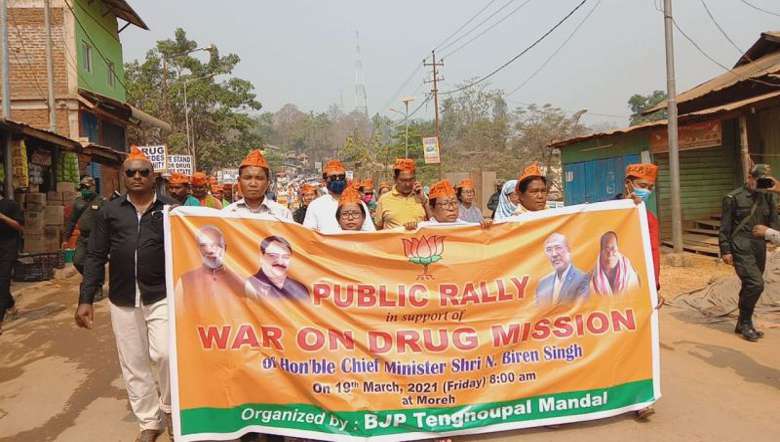 (PHOTO: IFP)
---
A public rally in support of the 'War on Drugs' mission was held on Friday at Moreh and it was flagged off by BJP Manipur spokesperson Benjamin Mate.
The rally was started from Moreh Forest department check gate and marched through Moreh bazaar, Tali road, Moreh police station and concluded at the starting point. Leaders of HTC, KCA, MCM, MYC, KSO, KWU and HR, ACODOM, MMCM, Tamil Sangam, Gorkha Samaj, Meira Paibis and students of different schools in Moreh town took part in the rally.
Meanwhile, 20 Assam Rifles held an awareness programme on 'War on Drugs' at the district headquarters, Tengnoupal district.
It was attended by the commander of 26 Sector AR and DC of Tengnoupal. The resource persons of the programme were Dr RK Lenin, Dr Bobo Ningthoukhongjam and Hijam Dineswar.
It may be mentioned that in February last, at least 143 NGOs joined the state government's campaign of 'War on Drugs' and extended support in destructing poppy cultivations in the state. Thirty three communities of the state took pledge on February 25 to work together with the government in ending the drug menace and to destroy all illegal poppy plantations.
First Published:
March 20, 2021, 12:16 a.m.