'Inclusion of legal provision can minimise issue of drug menace'
Chairperson of District Legal Services Authority (DLSA), Thoubal, A Noutuneshwari said drug issue in the state must be fought together.
---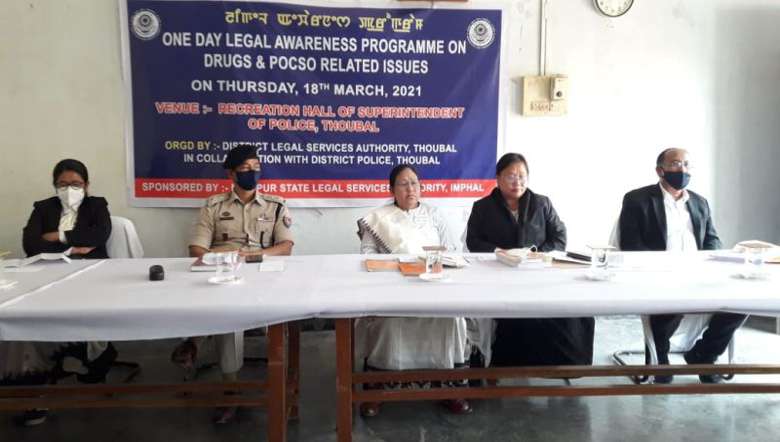 "If a legal provision is included, the issue of drug menace in the state can be minimised," chairperson of District Legal Services Authority (DLSA), Thoubal, A Noutuneshwari stated while addressing as chief guest during a One-Day Legal Awareness Programme on Drugs and POCSO Related Issues' held on Thursday.
The awareness programme was jointly organised by DLSA, Thoubal and District Police Thoubal at the recreation hall of the SP Thoubal office complex.
Continuing her speech, Noutuneshwari reminded that the drug issue in the state must be fought together. Mentioning that under Section 67 of NDPS Act, additional power is provided to police personnel, she also spoke on how to build a solid case after a drug haul. She further narrated tales from her personal experiences in life along with legal details and various instructions for the benefit of the attending police personnel.
Speaking on the occasion, SP of Thoubal, S Ibomcha said that "the number of drug cases in the state is currently on a rapid rise, so we still need to be extra careful and diligent." The police should take extra precautions so that there are no loopholes when evidence for drug haul is being presented at court, he continued while also imploring the public to have trust in the police that they would not let even a drug dealer be free.
Secretary in-charge DLSA Thoubal, A Santa Devi and vice-president of Thoubal District Bar Association, Kh Arunkumar Singh also attended the event as presidium members while retired district and session judge, Imphal East, M Manojkumar and additional public prosecutor, Senapati, Koshia Mao were the official speakers. They presented speeches on 'POCSO Inquiry and its Trial and Related Issues' and 'ND and PS Act and its Depth Consideration' respectively.
The awareness programme also witnessed the attendance of additional SP (LO), Lakshya Sharma; SDPO Thoubal, H Johny Sharma; SDPO Yairipok, K Dhananjoi; OC of Lilong PS, inspector Riaz Khan; OC of Thoubal PS, inspector N Jadumani; OC of Yairipok PS, inspector MD Riyajuddin; OC of Nongpok Sekmai PS, inspector Premkumar Mangang; OC of Khongjom PS, inspector K Santosh; OC of Heirok PS, inspector N Premjit; OC of Thoubal Commando, inspector N Tikendra; and OC of Women PS Thoubal, inspector O Chaoba along with several other sub inspectors and women police personnel.
First Published:
March 18, 2021, 10:31 p.m.