'People of Khundrakpam kept blindfolded for years'
Not only old age pension cards but there are also various issues, including delay in construction of Imphal East district hospital in Sagolmang, social worker Nongthombam Rajendro
---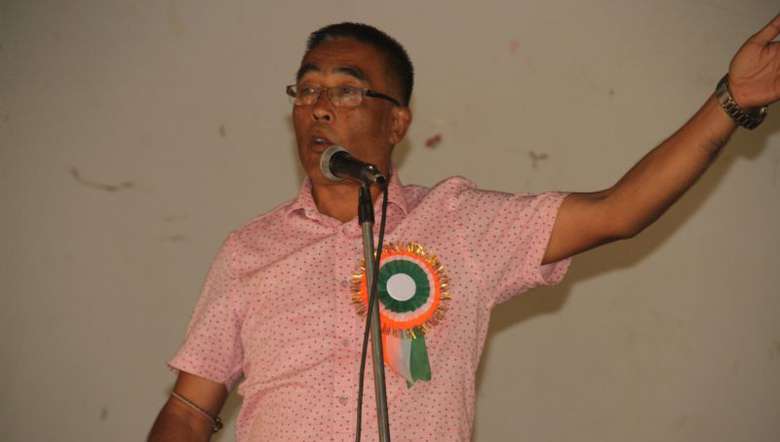 (PHOTO: IFP)
---
To get his personal benefits, the local MLA of Khundrakpam assembly constituency blindfolded the people of the assembly constituency for the last many years, social worker Nongthombam Rajendro alias Boi alleged on Tuesday.
He was speaking at the distribution of old age pension cards held at the community hall of Uyumpok, Imphal East.
Rajendro said with the coming of BJP-led government in Manipur, about 563 old age pensioners have received benefits of pension cards which had been neglected by the past government.
He said with the biases to the people of the assembly constituency, its people had been left out from the benefits provided by the present government.
Not only old age pension cards but there are also various issues, including delay in construction of Imphal East district hospital in Sagolmang, misleading the 'Go to village' mission and others, said Rajendro.
Foundation stone of Imphal East district hospital was laid in 2012 during the previous government but construction of the hospital was delayed due to land dispute. As the ownership of the land was under the name of family members of the local MLA construction of the hospital could not be continued, he added.
After about eight years, the local MLA donated the land to the government only through Imphal East district DC in February 2020, he added.
He said the present government will resume the construction work of the hospital at the earliest and will deliver various benefits from the state government. He appealed to the people to get benefits from the government instead of neglecting them under political influence.
First Published:
March 17, 2021, 12:46 a.m.