World Consumer Rights Day 2021 observed in Manipur
A function was organised by the Consumers' Club Manipur at GM Hall, Imphal, under the theme 'Tackling Plastic Pollution' to mark the World Consumer Rights Day 2021.
---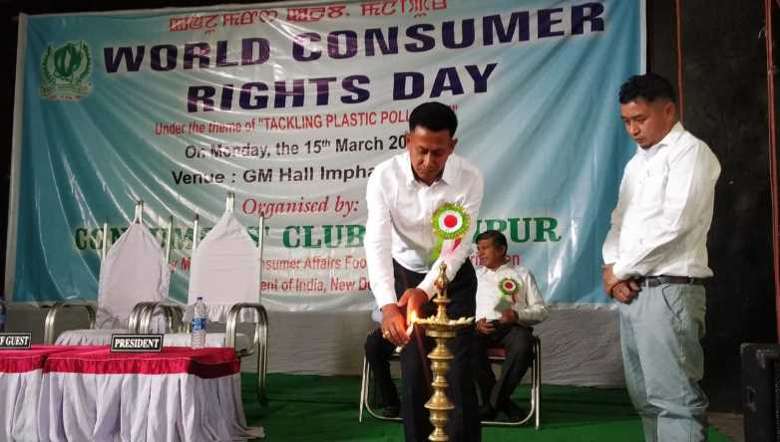 (Photo: IFP)
---
The World Consumer Rights Day was observed on Monday at a function organised by the Consumers' Club Manipur at GM Hall, Imphal, under the theme 'Tackling Plastic Pollution'.
Speaking at the occasion, former president of Consumers' Dispute Redressal Forum Ch Norendra pointed out that everyone is a consumer whether they are aware or not, either consumer of products or consumer of services.
As such, everyone needs to be aware of consumer rights, he said and highlighted that there are broadly six consumer rights namely Right to Safety, Right to be informed, Right to Choose, Right to be Heard, Right to seek redressal and Right to consumer education.
The Right to Safety protects the consumers against the marketing of goods and services, which are hazardous to life and property. Before purchasing, consumers should insist on the quality of the products as well as on the guarantee of the products and services.
Right to be Informed means the right to be informed about the quality, quantity, potency, purity, standard and price of goods so as to protect the consumer against unfair trade practices, he said.
He maintained that according to the Right to Choose, consumers should be assured, wherever possible, of access to a variety of goods and services at competitive prices.  He further said that consumer's interests will receive due consideration at appropriate forums as provided by the Right to be Heard. It also includes the right to be represented in various forums formed to consider the consumer's welfare.
Narendra also noted that the Right to Seek redressal means the right to seek redressal against unfair trade practices or unscrupulous exploitation of consumers.
Right to Consumer Education means the right to acquire the knowledge and skill to be an informed consumer, he added and exhorted the consumers to be aware of their rights so that they are not exploited.
Social worker of Kshetrigao AC Lamyanba Eepu, while deliberating on the theme 'Tackling Plastic Pollution' called for timely control over the increasing use of plastics.
First Published:
March 16, 2021, 9:47 a.m.