YWC Langthabal blasts THAU Thangmeiband by 94 runs in 5th MNCA Elite Relegation Round
Reyoungster Nagamapal will play THAU Thangmeiband on Monday.
---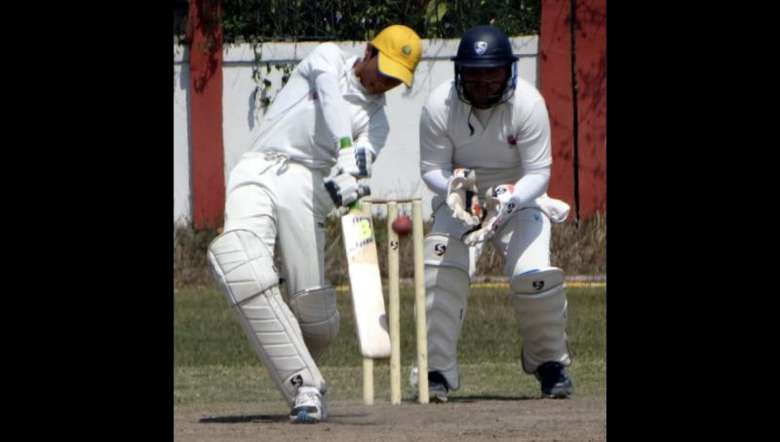 A batsman making a defensive stance during the relegation match between YWC Langthabal and THAU Thangmeiband (PHOTO: IFP)
---
YWC Langthabal pulled off 94 runs victory over THAU Thangmeiband in the 5th MNCA Elite Relegation Round 2021, played at Luwangpokpa Cricket Ground, Luwangsangbam.
Electing to bat first after winning the toss, YWC Langthabal rode on skipper Prakashmani who smacked 47 runs as an opener. Though he ran short of partners, he was well supported by middle order wicketkeeper batsman P Rohit who hit an unbeaten 39 runs from 65 balls and Th Kishan who got 32 runs from 27 balls. Ng Maheshkumar contributed 19 runs to post 204 runs for 8 wickets from 40 overs.
THAU Thangmeiband bowlers Ranjan Singh, Krishnachandra Singh, despite getting the sticks, managed to pick up 3 wickets each while RK Amarjit fetched 1 wicket.
Making their reply, THAU Thangmeiband batsman never felt at ease as opener Santoshkumar Singh retired hurt at 16 runs while skipper Rabikanta Singh stood alone making 29 runs from 27 deliveries. Ranjan Singh, Milan Singh and Momocha Singh got 10 runs each, which fell short to conclude their innings at 110 runs for 9 wickets from 27.1 overs.
Langthabal bowler M Subash, Y Vivek bagged 2 wickets each while Th Kishan, Ng Bingson and P Prakashmani fetched 1 wickets each and later Prakashmani was adjudged as the Man of the Match for his 47 runs knock and 1 wicket.
In the round robin league of the relegation matches, Reyoungster Nagamapal won both their matches while YWC Langthabal, A-Ameen CC Lilong won one match each and THAU Thangmeiband lost both their matches.
In the next match on Monday, Reyoungster Nagamapal will play THAU Thangmeiband as tomorrow being a rest day for the teams.
First Published:
March 14, 2021, 12:56 a.m.