Manipur opens organic food outlets in Pune, Maharashtra and Bengaluru
Manipur Chief Minister N Biren has said that the state government is planning to open more organic food outlets in other parts of the country.
---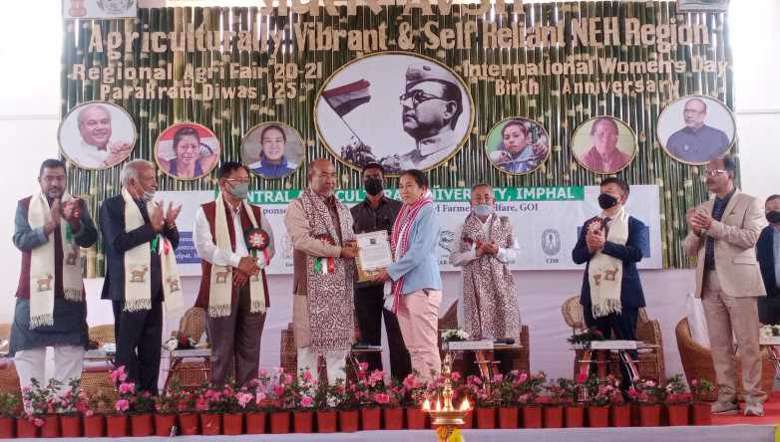 Manipur Chief MInister N Biren felicitating Padma Shri awardee Paonam Bembem
---
As a part of the initiative to promote indigenous products of Manipur, the state government has opened its organic outlets in three cities of the country - Pune, Maharashtra and Bengaluru. Progress is on to open more organic food outlets in Delhi and Kolkata, Chief Minister N Biren Singh said on Monday.
Biren was delivering the presidential speech during the inaugural function of the "Central Agricultural University (CAU)- Regional Agri Fair 2020-21" and celebration of International Women's Day 2021 at CAU Central Farm in Imphal.
The fair was organised under the theme, "Agriculturally Vibrant and Self Reliant NEH Region" and the women's day celebration was organised under the theme, "Women in Leadership: Achieving in Equal Future in a COVID-19 World."
Biren said in recent years the state government had taken up various initiatives to export black scented rice, pineapple and other horticulture products of the state under the Prime Minister vision of Atmanirbhar Bharat (Self-Reliant India).
With the launching of the Pradhan Mantri Formalisation of Micro food processing Enterprises (PM-FME), the state has also witnessed a boost in the food processing industry, said Biren.
Pointing out the need to put more efforts and focus on promoting cultivation and value addition of local products, Biren said the state government had also adopted Integrated Farming System (IFS) in all districts focusing on high value vegetables.
Asserting that the farmers are now much aware of the dynamics of the free market economy and had started adopting improved techniques, inputs and efficient market linkages, he said, "I hope that the farmers start getting better returns."
The chief minister stated that such a fair on agriculture will not only showcase the potential of the agriculture sector in the Northeast region, but will also provide opportunities of collaboration, interaction and knowledge sharing amongst the farmers.
Biren also informed that the "One District, One Product" Scheme had also been adopted in all 16 districts of Manipur to promote local products like ginger, turmeric, king chilli, kiwi fruit and others.
Of the 5,89,070 farmers of the state which had been registered under the PM-KISAN Scheme, 60 per cent of the beneficiaries had availed the benefits in 2020, the chief minister said.
Biren further informed that a total of around 30,000 tribal women have been given employment by creating around 3,000 self-help groups.
Delivering the chief guest speech through video conferencing, Union minister of Agriculture and Farmer's Welfare Narendra Singh Tomar stated that women had been taking equal part in bringing progress and development in the country.
Naming several women personalities of North Eastern states, Tomar said women from the region have been contributing in bringing fame to the country at many instances.
Stating that the fair will be helpful to farmers of Northeast in increasing their production and getting access to new farming technologies, he also reminded that the government had been putting its efforts for the welfare of farmers' community with introduction of certain schemes such as PMFBY, PMKSNY and Soil Health Card schemes among others.
The union minister also lauded the N Biren-led government of Manipur for taking the state to a new height of development and further expressed that law and order of Manipur had considerably improved.
In their speech, the Union minister and the chief minister also extended their warm greetings to the women of the society on the occasion of the International Women's Day.
Female Padma Shri awardees from Manipur Hanjabam Radhe Sharmi and Oinam Bembem Devi who is also an Arjuna awardee were felicitated by the chief minister during the programme.
During the programme, Narendra Singh Tomar virtually inaugurated various infrastructures, including Model Fish Farm on integrated System at Lamphelpat; Library Cum Dispensary, Nursery School Building, Food Processing Unit and MTTC-VTC at College of Community Science, Tura, Meghalaya; Boys Hostel and Girls Hostel at College of Horticulture, Thenzawl, Mizoram; MTTC-VTC at College of Fisheries, Lembucherra, Tripura and KVK Sepahijala Administrative Building in Tripura.
Speaking at the occasion, Tomar said, "It has been said that Yatra Narayastu Pujyante Ramante Tatra Deityah, that is, where a woman or woman is respected, God resides there...  In this sense, entire Northeast India is an example, where there is no gender difference. The women here work shoulder to shoulder with the men".
Saying Northeast has given many women achievers to the country, he mentioned the names of L Monika Devi and Sonia Chanu who made India proud at international level.
Tomar also said the Central government will take forward the Beti Bachao Beti Padao programme to benefit India as well as Manipur.
"Manipur has also contributed in Independence struggle. Netaji Bose on 14 April 1944 hoisted the flag of the Indian National Army. I bow to this great land. I am happy that the Agri University is organising this 14th Agri fair, the university will help grow agriculture in the state which will be beneficial to all. I hope that Agri fraternity (farmers) will learn and adopt new techniques in Agriculture to be self reliant and also contribute toward making India self reliant.
"Northeast has huge potential for agriculture and cash crops, organic and Indian agriculture techniques. The university is working in this direction, so is Agri science institutions and the government is also leaving no stone unturned to make agriculture profitable and double farmers' income. We want our farmers to adopt new technologies, practice agriculture as per international standards. We all need to work in the direction to make agriculture better, increase our Agri exports," Tomar added.
First Published:
March 8, 2021, 8:26 p.m.