Moreh CVOs appreciate timely clarification on bomb attack
A bomb blast occurred on February 27 at around 6:55 pm at De Khunai Resort, a lodging hotel which is owned by the MCM president.
---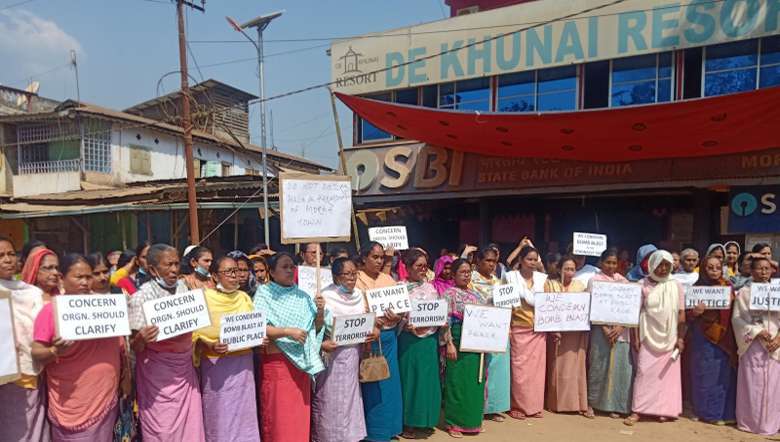 Mass rally held against bomb blast at De Khunai Resort (PHOTO: IFP)
---
Civil organisations in Moreh, including the Hill Tribal Council Moreh, the Tamil Sangam Moreh, Manipuri Muslim Council, Moreh and the Gorkha Samaj Samiti, Moreh jointly appreciated the organisation concerned for timely clarification following the appeal made in connection with the hurling of bomb to De Khunai Resort owned by president of Meetei Council Moreh (MCM), M Thoiba.
In a joint statement, the CVOs stated that Thoiba might have unintentionally committed some acts which may be uninviting to the particular organisation. However, it is hard to believe that the MCM president would have done anything wrong against any organisation.
The CVOs appealed to the organisation concerned not to have any grudge against Thoiba and not to do anything which may threaten the lives and properties of people and not to disturb the peaceful environment of Moreh.
MCM further stated that the executive council meeting of its council has thoroughly discussed the allegation charged to Thoiba and after hearing his statement, MCM had clarified that Thoiba had never done such activities before and he has no right to obstruct the activities of any organisation whether in the past or future. MCM appealed to any organisation that such acts of false allegation should not be repeated in future.
ALSO READ:
First Published:
March 6, 2021, 10:33 p.m.