JAC against death of RK Khesper holds protest
Khesper died of bullet injury during a clash between two families on Saturday.
---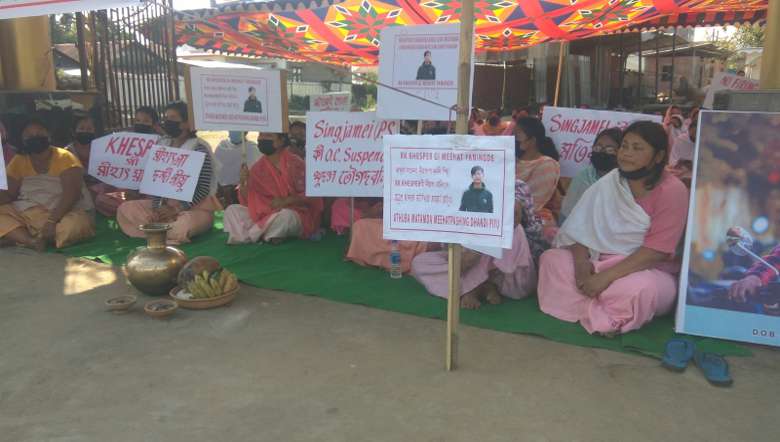 (PHOTO: IFP)
---
The JAC formed against the death of 16-year-old KR Khesper carried out a sit-in-protest in condemnation of the incident at Kakwa Naorem Leikai ground, Imphal West on Tuesday.
Speaking at the protest site, executive member of the 'JAC against brutal killing of RK Khesper and injuring of 7 persons, Naorem Leikai', Naorem Sushila demanded the authorities concerned to arrest the culprits involved in the incident where Khesper was killed while seven others were left wounded.
The incident could have been prevented if the officer-in-charge of Singjamei police station had seized the weapons used by the accused persons and taken necessary action in a timely manner as per the complaint made by the locals against the accused Pikto and other three persons, she said. 
She said before the incident took place wherein Khesper succumbed to bullet injury and seven others received injuries, the locals had urged OC, Singjamei police station to seize the gun and other weapons from the accused persons.
Instead of seizing the gun and weapons, an agreement was made to sign between locals and family members of Pikto that no further violence or quarrel will take place, she added.
On the same night, altercations took place and Khesper died due to bullet injury and seven others were injured, Sushila said.
She alleged the OC of Singjamei police station of being undutiful and demanded that he must be suspended or transferred from the police station and the culprits involved in the crime must be arrested immediately.
A protester strongly condemned the sub-divisional police officer, Singjamei police station, Th Luxmi for allegedly making a statement, "we are not bothered about the death."
Meanwhile, two accused persons namely Longjam Achou Singh, 76, son of late L Iboton Singh and his son Longjam Rakesh Singh, 45, of Kakwa Huidrom have been arrested and remanded for 10 days police custody till March 9.
Rakesh said before the court on Sunday that on seeing a huge crowd pelting stones at the residence of his uncle Pikto alias Langkeshwor Singh, he fired four rounds from his license gun from his corridor towards the crowd.
ALSO READ:
First Published:
March 2, 2021, 10:03 p.m.