Why Phoklong villagers are opposing declaration of Jiri Makru as wildlife sanctuary
About 198 square km in size, Jiri Makru is located at a distance of around 68 km from Tamenglong Headquarters.
---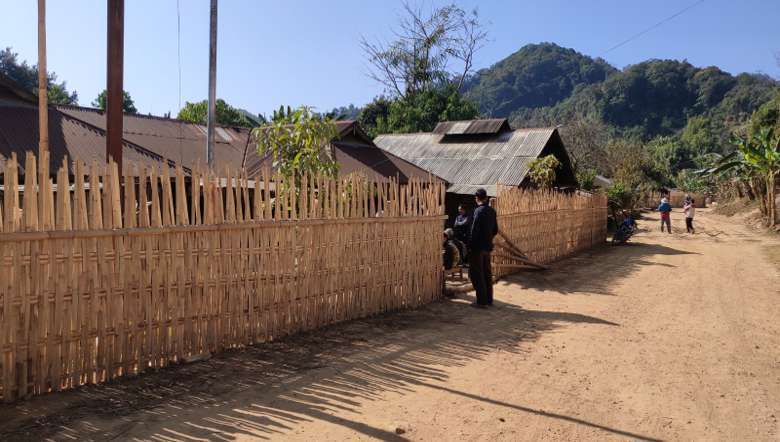 (PHOTO: IFP)
---
Villagers settling around the periphery of Jiri Makru in Manipur might have different opinions about the state government's decision to declare the forest area as a wildlife sanctuary. It was on September 22, 1997 that the state had given the initial notification to declare Jiri Makru forest area as a wildlife sanctuary. But the villagers living within the jurisdiction and nearby places located within Tousem sub-division of Tamenglong district strongly condemned such decision till today, citing the government's failure to give prior information to them.
Manipur is a state with vast forest areas. According to a report of the Forest Survey of India, three-fourth of the state's geographical area is recorded under forest. Considering the purpose of protecting and promoting their ecological, faunal, floral, geomorphological, natural and zoological significance, the state government had proposed seven forest areas to declare as sanctuaries located at different places. Of the seven proposed wildlife sanctuary, only Yangoupokpi Lokchao Wildlife Sanctuary at Tengnoupal district with an area of 184.80 square km was declared a wildlife sanctuary.
The list of sanctuaries which are yet to be given final declaration are Jiri-Makru Wildlife Sanctuary at Tamenglong, Kailam Wildlife Sanctuary at Churachandpur, Zeilad Wildlife Sanctuary at Tamenglong, Buning Wildlife Sanctuary at Tamenglong, Khongjaigamba Ching Wildlife Sanctuary and Thiningei Bird Sanctuary.
The proposal was made in different years under the Wildlife Protection Act 1972.
About 198 square km in size, Jiri Makru is located at a distance of around 68 km from Tamenglong Headquarters. The region which was once thickly forested is now deteriorating and facing deforestation. During a recent visit to Phoklong village, hardly any wildlife could be seen. Village chairman Nampuiteung Pame said, "People of this village has attachment to the forest land emotionally, socially and economically. Starting from livelihood to settlement, villagers depend on this region. As such, not informing anything to the villagers and issuing an initial notification as a proposed wildlife sanctuary is unfortunate".
"The concerned department should give proper information about the initial proposal to declare Jiri Makru as wildlife sanctuary. However, such step was not done anything and this has resulted us zero knowledge about its declaration till date. Being an inhabitant within the jurisdiction of the forest, at least the government should give prior information. It is through media we came to know," he condemned.
Stating about the people living in and around sanctuary, he said there are around 167 households with a population of around 1,800 in Phoklong.  Almost all the people carry out agricultural activities as the main source of livelihood since time immemorial. The people are highly apprehensive that declaration of sanctuary would snatch their livelihood by disallowing them to access the forest land.
"Not only our village is denying to declare as wildlife sanctuary. Even the neighbouring village which falls within and nearby of the sanctuary such as Katang, Katiang, Tegoram and New Magulong are also unwelcome with such step to announce as sanctuary," he informed.
As most of the villagers are illiterate, the government should describe them what is sanctuary all about. However, not a single awareness programme is being conducted so far even after 24 years of its initial notification, he condemned.
The villagers are not only denied of the state government initiation to declare their place as sanctuary but also lost their trust to the state government.
"The government didn't say anything before its notification. Then how will we trust them if they asked to shift our village with an assurance to provide compensation," he said, while stating the villagers wouldn't agree to shift their settlement if any such situation arises. He complained that the village doesn't have proper basic facilities till date.
There is no health centre, higher secondary school and water supply. As such, it is highly questionable whether the state government would provide proper infrastructure when the village is being relocated. On top of this, the village still practice the system of land ownership. Therefore, villagers are highly apprehended that the government would provide compensation only to land owner, he added.
When asked whether hunting is still continuing within the sanctuary, the village chief said that hunting is a part of their culture. As such, despite knowing the decreasing population of faunas, hunting couldn't be stop completely. However, villagers are taking initiative to control hunting within the sanctuary as they started realising the significance of preservation of forest and wildlife. 
Jiri Makru forest area has the significance of being a virgin forests of catchment areas of Jiri and Makru rivers with varieties of flora and fauna. The forest department reported the presence of hoolock, gibbon, spotted linsang, bear, barking deer, sambar, leopard, jackal, pangolin, wild boar, jungle cat, flying squirrel, yellow throated martens, fishing cat, large Indian civet cat, pythons, clouded leopard, slow loris, hog badger, serow, pied and great Indian Hornbill, tiger and seasonal migration of elephants from Assam etc in the Jiri Makru Wildlife Sanctuary.
ALSO READ: 
First Published:
Feb. 21, 2021, 10:13 p.m.