1st AMFA Cup: Teams share points as drawn result rules the day
NESU Khurai held on to WAFA Wangoi by 1-1 goals in the 1st AMFA Cup 2021.
---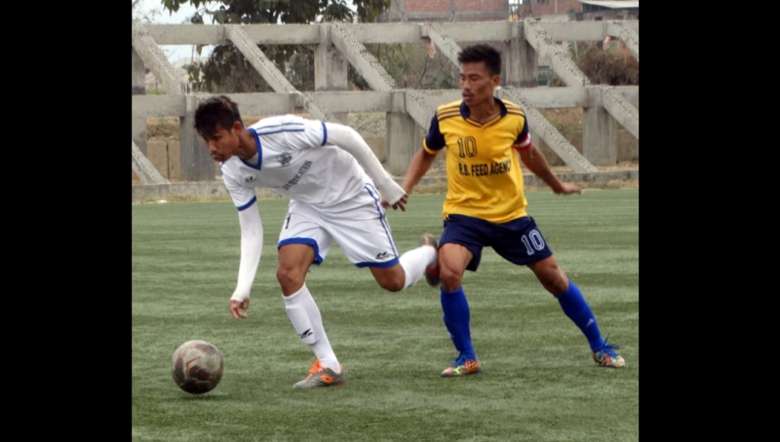 (PHOTO: IFP)
---
NESU Khurai held on to WAFA Wangoi by 1-1 goals in the 1st AMFA Cup 2021 sponsered by Sheikh Babumacha Memorial Trust at Artificial Turf, Lamlong Thongkhong Imphal East on Saturday.

Y Monish Singh provided the early goal for NESU Khurai in the 10 minute of play to enjoy the lead. However, WAFA Wangoi, who were performing well in other tournaments, made a turn in the injury time of first half when Peter S Haokip fetched the equaliser to level 1-1 goals draw.

The second half failed to yield any goals and both teams had to share a point each by the drawn result. NESU player I Sanju Singh and WAFA player Th Lenin Singh got a yellow card from referee Yulung Lunggu.

In the second match, JSYC Kangpokpi and KYVO Kwasiphai also held on 2-2 goals. The KYVO team presented a balanced look as they came up with the opening goal from Ng Imarson Meitei in the 39th minute to dominate the first half.
With much more aggression in their play, KYVO consolidated the score in the 68minute when Kameikanbilung fired home the second goal.

But JSYC jumped back into the fray with Seigouhao Khongsai boosting the morale of his team with the first goal in the 73rd minute. With their new found confidence, JSYC's relentless efforts paid off in the injury time of the final whistle when Seiminhao Vaiphei banged home the equaliser to draw 2-2 goals parity.

JSYC player Seiminlun Kipgen and KYVO players Sh Manikanta, L Chingkheinganba, Ch Gobin received a yellow card for dangerous play from referee T Premjit.
First Published:
Feb. 21, 2021, 12:35 a.m.