KUSA facilitates global records holder
Lalzomlien Gangte won Global records for his rendition of Hallelujah chorus
---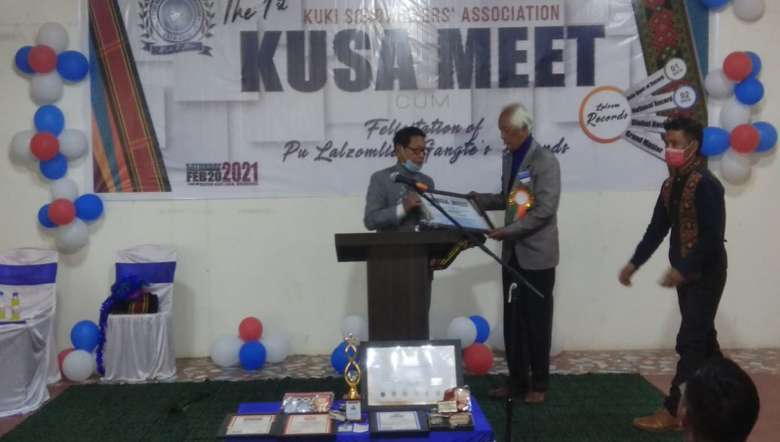 (PHOTO: IFP)
---
The first Kuki Songwriters Association meet or KUSA MEET cum felicitation of Lalzomlien Gangte's Global Records was held on Saturday at Victors Rest Farm located at Mualvaiphei, Churachandpur.
The occasion was attended by MLA of Saikot assembly constituency TN Haokip as chief guest, former minister Manga Vaiphei as guest of honour and presided by social worker Lhingboi Touthang. The 'king' of Kukis Sholet Lungdim took part as the chief host.
The main highlight of the first meet of KUSA, which was established in 2018, was the facilitation of the Global Records winner Lamzomlien Gangte. He won Global records for his rendition of Hallelujah chorus for a period of 2:30:27 seconds in 2020. He also received Asian and national records apart from getting the Grand master title.
The chief guest in his speech, congratulated the record holder Lalzomlien Gangte, saying that he loved the objective and enthusiasm of KUSA. "I am not a singer but I believe that the song was loved by all."
On the occasion, three Kuki song writers of yesteryears namely Ncy Doungel, Pater Ngamsei and D Angel were honored with lifetime achievers award at the occasion led by vice president of KUSA where many young songwriters and singers participated.
The president of KUSA on the occasion said that the idea behind the conception of KUSA  was to bring unity among songwriter and explore new talent apart from acknowledging efforts made by Lalzomlien Gangte who chose to have a one word song called 'Hallelujah' which is an international language known by all, thus achieving the global records.
First Published:
Feb. 20, 2021, 10:08 p.m.