Manipur Assembly passes Rs 2555.27 crore grant for education
The Manipur legislative assembly on Friday passed six demands for grants amounting to Rs 40,737,532,000
---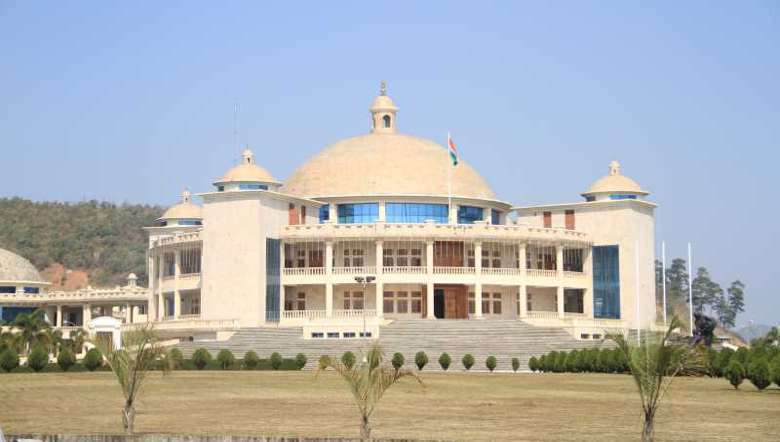 Manipur Legislative Assembly (PHOTO: IFP))
---
The Manipur Legislative Assembly passed six demands for grants, 2021-2022 amounting to Rs 40,737,532,000 on day 12 of the ongoing 12th session of the 11th Manipur Legislative Assembly on Friday.
The six demands included Education (Rs 25,552,787,000); Municipal Administration, Housing & Urban Development (Rs 7,217,624,000); Election (Rs 7,43,034,000); Water Resources  Department (6,183,897,000); Horticulture & Soil Conversation (Rs 9,83,900,000);  and Science and Technology (Rs 56,290,000) respectively.
Opposition MLAs AK Mirabai Devi, Th Lokeshwar Singh, D Korungthang, K Meghachandra Singh, Alfred Kanngam Arthur, Surjakumar Okram, K Govindas,  N Loken Singh, Kh Joykisan Singh and Md Fajur Rahim participated in the Discussion  and Voting on Demands for Grants  by raising policy cut.
In the discussion and Voting on Demands for Grants pertaining to Education, S Rajen Singh, Minister of Education informed the House that under the School Fagathansi Mission which was launched in the year 2019, the government has a plan to select one school each in every constituency.
After a long closure of education institutions due to COVID-19 pandemic, schools were reopened with the approval of the Cabinet from January 27, 2021 from Class IX to XII following SOPs and guidelines issued by the Education department. The minister further said that recruitment of over 190 College teachers of difference discipline were under process.
MAHUD minister O Henry said that the government has implemented PMAY in the state and 3,651 houses have completed construction and the rest are on the verge of completion.
Replying to a policy cut motion raised by opposition MLA K Govindas, the MAHUD minister informed the House that as per a report submitted by Local Fund Audit, there were instances of misappropriation of funds in the Moirang Municipal Council. Taking part in the discussion, the chief minister assured the House that a committee will be constituted and appropriate action will be initiated as per report of the committee.
In today's session, chief minister N Biren Singh introduce the Manipur State Planning Authority Bill, 2021 (Bill No. 17 of 2021 and deputy chief minister Y Joykumar Singh introduce the Manipur Appropriation (No.2) (Bill No. 11 of 2021)
Later, the House unanimously resolved to urge the Central government to preserve and develop the INA complex of Moirang Kangla and related places of HQs of INA during the Second World War, Pallel airfield and Koirengei airfield and battlefields as an attraction sites. (DIPR)
First Published:
Feb. 20, 2021, 7:58 a.m.